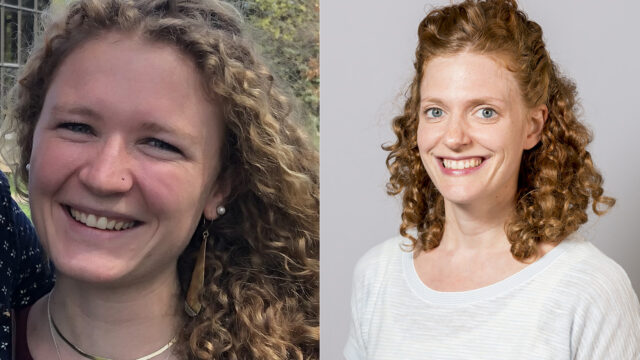 Opportunities for an undergraduate student to be the lead author of a published research paper are few and far between. For Mac graduate Emma Curchin '22, whose upcoming publication won best paper in labor politics through the American Political Science Association, the timing was fortuitous. In early 2020, Professor Lesley Lavery and her counterpart at Wake Forest, Professor Sara Dahill-Brown, were preparing to interview leaders of teachers' unions across the country to examine how they were responding to the pandemic's demands on their members. Then George Floyd's murder happened, and the researchers were compelled to also examine how unions responded to calls to address race and racism in their communities. But that also meant they needed help, and what was supposed to be just a summer internship for Curchin turned into a two-year collaboration. 
Emma, what parts of the project did you take on?
Emma Curchin: I was there right at the beginning, and I was mentored to be involved in a lot of different parts of the research. I got to help when they were designing the research and asking questions like: Who should we interview? What parts of the country should we focus on? What does the school district look like? You don't usually get to do that as an undergraduate because you don't have time or money and you're not skilled enough. 
I also contacted people to see if they wanted to be involved and researched districts in California to decide which ones to include. Once the interviews started, I did a lot of transcribing, which was really great. To sit down and hear the emotion from the union leaders was important, because you can't get that from just reading what they said. 
Lesley Lavery: While she was transcribing, we had all these conversations about what she was seeing, were there any patterns, was there anything weird or really interesting. And that generated some themes, and one of them was around the responses to these questions about addressing race and racism, and that's what she wanted to run with. 
For two years we worked together, which was unique.  She was able to see every part of the process and she earned the opportunity to take the lead on an article. 
What was the range of responses about race that you received from teachers' unions across the country?
EC: It was intimidating looking at all the varied responses and trying to figure out the most useful way to talk about them because not all of the union leaders' actions were the same. With guidance from Professors Lavery and Dahill-Brown, I classified the responses into three categories: symbolic, systemic, and capacity-building.
We found that some unions were doing important symbolic work, like posting on social media that what happened to George Floyd was wrong and their union didn't stand behind it. Others took much more drastic actions, such as saying they were going to upend the way they do professional development and teach classes to help members reckon with their own biases or building alliances to push for changes in state legislation. And then about a third of the unions we surveyed didn't do much of anything. The reasons why those third didn't act was also a very important part of the paper. 
LL: Some said the union represents teacher interest, but that there wasn't one particular teacher interest. The members themselves were divided just like much of the country, so if you lived in a place that wasn't polarized or partisan, you represented a lot of different people. As a union, they couldn't take a stand because the members had different views on these sorts of issues.
What was the most challenging part for you, Emma? 
EC: For me, it was important to do justice to what we were writing about. It felt scary to analyze teachers and union members and students around a very traumatic moment in George Floyd's murder. But it was also a source of so much inspiration to hear labor organizers, teachers, and students sharing what they want to change in their schools, which can be amazing places, but also full of systemic racism. It was intimidating to get it right. 
Professor Lavery, you mentioned this was a "unique" collaboration, in that it lasted two years. What did you learn?  
LL: I learned that students can do it – that they can meet expectations and that you can empower them to ask for help. They're junior colleagues, and if you treat them as such, they're going to rise to the occasion. 
Now I would be more willing to let students in at every stage of a research project.  
They're going to get more out of this and I'm going to get more out of this, if we do the whole thing together.
Emma, you graduated from Macalester in 2022. What are you doing now and how has this experience prepared you? 
EC: I'm a research assistant for a think tank in Washington D.C. I don't think I would have applied for the job if I hadn't done this project, which gave me a confidence boost. Turns out that when I was interviewed for my job, they liked that I had the hard skills I learned while doing this research. I'm still building them, I'm still not perfect, but I have found a place where they want to teach me. I also learned that I really like working in teams and I like collaborative research. It's better to learn together.