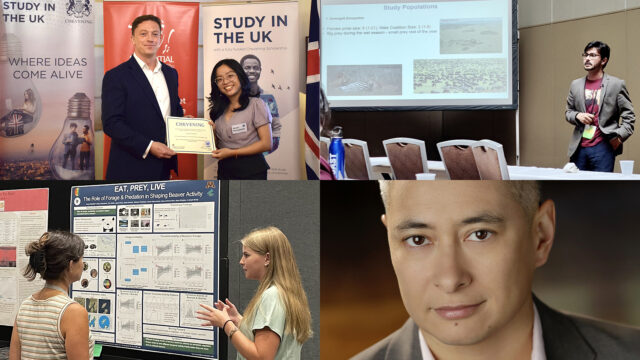 Maccolades is a monthly round-up of the most recent accolades and accomplishments earned by members of the Macalester community. Below are highlights from Summer 2023. 
Oxford-bound
Macalester graduate Vanisa (Nita) Senesathith '21 was awarded a Chevening Scholarship, which fully funds a one-year master's degree program in the UK. Senesathith will attend the University of Oxford to study evidence-based social intervention and policy evaluation. A psychology major, she expressed gratitude to her mentors at Macalester. The scholarship will cover flights, accommodation, and course fees.
"I am excited to use this degree towards achieving my goal of developing mental health interventions in Laos, my home country," Senesathith said. 
A lion's share of honors
Biology Professor Stotra Chakrabarti received the Career Diversity Award from the Animal Behavior Society at the organization's conference in Portland, Oregon, and the Early Career Travel Award from the American Society of Mammalogists at the International Mammalogical Congress in Anchorage, Alaska. "These awards helped me participate and present at these conferences," Dr. Chakrabarti said. "I am grateful for the recognition." 
He presented his long-term behavioral research on wild lions in India and East Africa, "Through this research, we have been able to understand the fundamental causes and consequences of group living in one of the most charismatic carnivores of our time," he said.
A clarinet crescendo
Macalester clarinet instructor and Wind Symphony director Shelley Hanson was the featured soloist at the Minneapolis Pops Orchestra's July 16 concert. The professional orchestra presents 10 concerts each summer at the Lake Harriet Bandshell for approximately 3,000 audience members. Hanson has served as the orchestra's principal clarinetist for over 25 years.
Pride in research
Macalester graduate Eliza King '23 presented her research on lion predation ecology from Tsavo, Kenya at the International Mammalogical Congress in Anchorage, Alaska. This research, conducted with Professor Stotra Chakrabarti, found that lions in Tsavo prefer hirola and Grevy's zebras, both rare and endangered herbivores. According to King, this work offers foundational information on safeguarding these species during periods of high lion predation. With the conference hosting the world's top research on mammals, Chakrabarti noted: "Presenting undergraduate research at such a conference is a reflection of Mac students' academic excellence." 
Speaking about her experience, King said, "There were opportunities to meet with a mentor in the field, have meals with established mammalogists, and join workshops. There were so many amazing talks from scientists of all backgrounds, and I could stop and have a conversation with anyone whose work interested me."
Behind the curtain
Theater and Dance Professor kt shorb was awarded the Social Science Research Council's Arts Research with Communities of Color Fellowship for 2023-24. As the embedded researcher at Theater Mu in St. Paul, Dr. shorb will collaborate with creative and administrative staff to examine the theater's archive, interview important community members, and participate in and observe events, rehearsals, and performances. They will look at how Theater Mu engages with Asian American aesthetics, rehearsal room practices, and creative placemaking.
"I have long admired the work of Theater Mu and feel that Twin Cities theater is under-researched, nationally,"Dr. shorb said. "I hope to begin a long relationship with Mu and explore the many ways theater by people of color here has been innovative and important to the landscape of U.S. theater." 
Fluent in excellence
Out of more than 5,000 applicants, Macalester student Nurain Jiwani '26 and recent graduate Shaherazade Khan '23 were selected for the U.S. Department of State's Critical Language Scholarship Program. The program, part of a U.S. government effort to boost the study of critical foreign languages, equips scholars with language and cultural skills to support U.S. economic competitiveness and national security. Participants concentrate on one of 14 critical languages for 8-10 weeks. Jiwani studied Persian, and Khan studied Urdu. The program offers intensive language instruction and cultural enrichment, partnering with universities and nonprofits around the globe to immerse U.S. students in locations where the target language is spoken.
Dam good research
Macalester graduate Avery Munster '23 received the Animal Behavior Society Turner Award to present her capstone research on wolf-beaver predation dynamics at the Animal Behavior Society conference in Portland. 
"I was very excited to present my research at this international venue and hone my science communication skills, as well as connect with established professionals in the field of animal behavior and welfare research," Munster said. Conducted in collaboration with Professor Stotra Chakrabarti, her research focused on the factors influencing beaver terrestrial activity in Voyageurs National Park. "Beavers shape the trajectory of ecosystems through their dam building activities, so understanding what affects this activity is crucial," she said. 
Prof. Chakrabarti noted that this conference is the premier animal behavior conference, and receiving an award to present undergraduate research is a significant accomplishment. "I am super proud of Avery," he said. 
Labor of love rewarded
Dr. Lesley Lavery, professor and chair of political science, and Macalester graduate Emma Curchin '22, were co-authors of the paper, "Reckoning with Racism in U.S. Schools: Teachers Unions' Response to Calls for Change," which won the 2023 Dorothy Day Award for the best paper on labor politics presented at the American Political Science Association Annual Meeting. The nomination committee called the work theoretically rich, data intensive, and driven by a compelling question.
A dramatic development
Cristina Luzárraga, a visiting faculty member in Theater and Dance, joined the Playwrights' Center cohort of Core Writers. Consisting of committed professional playwrights who demonstrate a sustained body of work and artistic merit, Core Writers receive three years of support as they develop new works for the stage. Prof. Luzárraga is known for her dark comedies, often featuring unruly women and an exploration of the grotesque and uncanny.
"Being a Core Writer is a vote of confidence to keep on keeping on in an art form and business with a high bar of entry," said Prof. Luzárraga. She also noted the importance of deepening her relationship with the Center: "I'm delighted to continue developing new work at the Playwrights' Center, which has become an invaluable resource for me since I moved to the Twin Cities four years ago."
Dancing to success
Theater and Dance Visiting Faculty Member Sam Aros-Mitchell and Guest Choreographer Yuki Tokuda received 2023 McKnight Fellowships. This award recognizes accomplished choreographers and dancers who are beyond early practice and reside in Minnesota. As dancer fellows, Aros-Mitchell and Tokuda will each receive a $25,000 award, providing them with the flexibility to dedicate time for study, reflection, experimentation, exploration, seizing opportunities, or embarking on new projects. 
Tapping into a world of knowledge
Dr. Andrew Latham, professor of international relations and political theory, was named a Council on Foreign Relations higher education ambassador. The Council on Foreign Relations is an independent, nonpartisan think tank that promotes understanding of international relations and foreign policy. It was founded in 1921 and is now the premier foreign policy think tank in the United States.
From trash to treasures
Macalester won the waste diversion category of the Campus Race to Zero Waste case study competition. Each year, Macalester-themed items such as mugs and t-shirts are donated to the Macalester Free Swap, but many students don't take them, often causing these items to go to waste. The Sustainability Office and Athletics Department organized a reuse pop-up event at a basketball game, offering these items to attendees, particularly alumni and families who showed great enthusiasm due to their connection to Macalester. Ellen Gurrola, Sustainability Office coordinator, noted that these individuals were more inclined to embrace Macalester-branded items. She said Macalester likely will continue to provide pop-up reuse opportunities at athletic events on campus, diverting useful items from landfills and fostering sustainability.
How to be considered for future Maccolades
If you or someone you know recently earned an award, fellowship, or honor and would like it to be considered for inclusion in next month's Maccolades, please let Communications & Marketing know by filling out this Maccolades form. For recent book publications, please use this book publication form.