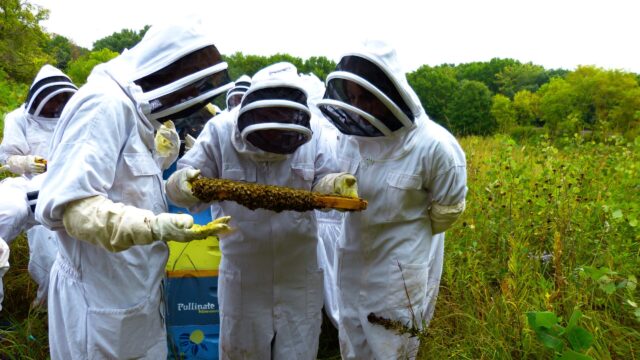 Macalester College has been recognized as a top performer in the 2023 Sustainable Campus Index, receiving a Gold rating and ranking 8th among Baccalaureate Institutions. A publication from the Association for the Advancement of Sustainability in Higher Education (AASHE), the Sustainable Campus Index recognizes top-performing sustainable colleges and universities overall and in 17 impact areas, as measured through the Sustainability Tracking, Assessment & Rating System (STARS). 
"This acknowledgement in the Sustainable Campus Index is exciting because it reflects Macalester's commitment to being an innovator and leader when it comes to campus sustainability," said Dr. Megan Butler, sustainability director at Macalester. "This recognition reflects Macalester's ambitious goals and provides inspiration to continue to strive to be a leader in the campus sustainability space in a way that provides unique hands-on learning opportunities for undergraduate students."
The college earned its top performer status by incorporating sustainability into the curriculum and faculty research, working to engage the campus community outside of the classroom, and adapting operations and policies to promote waste reduction, reduce carbon emissions, and facilitate the production of ecosystem services.  
"All of us at AASHE extend our warmest congratulations to Macalester College for their achievement," said AASHE's Executive Director, Meghan Fay Zahniser. "By fostering sustainable practices and initiatives, you set an inspiring example for your peers and future generations. Your efforts are a testament to the positive impact that institutions can make when they prioritize sustainability and take meaningful action. Keep up the outstanding work in creating a brighter, more sustainable future for all!"
Check out Macalester's STARS report. 
About STARS
The Sustainability Tracking, Assessment & Rating System (STARS) is a transparent, self-reporting framework for colleges and universities to measure their sustainability performance. STARS was developed by AASHE with broad participation from the higher education community. The credits included in STARS span the breadth of higher education sustainability and are organized into four categories: Academics, Engagement, Operations, and Planning & Administration. All reports are publicly accessible on the STARS website. For more information, visit stars.aashe.org.