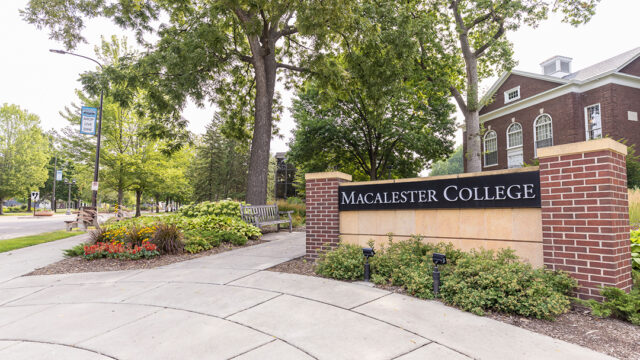 US News & World Report has again ranked Macalester College among the top liberal arts colleges in the nation, including 6th in undergraduate teaching. Princeton Review included Macalester among the Best Value Colleges for 2024 and ranked the college #4 again on its list of Top 20 Best Schools for Making an Impact (Private Schools). The college also received an A+ grade from Niche and is #3 on their list of Best Colleges with No Application Fee in America. 
These are just some of the top rankings and accolades Macalester has received in recent national assessments of colleges and universities that measure a wide range of variables, from academics and financial aid to social mobility and public service.  
"We are delighted to see Macalester recognized for its distinctiveness and the high quality of our student-centered programs," said President Suzanne Rivera.
US News & World Report's annual rankings assess various metrics, including graduation and retention rates, social mobility, and faculty resources. Macalester College's top USNWR rankings for 2023-2024 include: 
National Liberal Arts Colleges (#27)

Undergraduate Teaching Programs – National Liberal Arts Colleges (#6)

Best Value Schools – National Liberal Arts Colleges (#26)

Study Abroad (#28)
Princeton Review ranks the top 25 colleges in 50 categories based on student surveys. In 2024, Macalester was ranked #4 on the list of Top 20 Schools for Making an Impact (Private Schools), #23 on their Top 50 Green Colleges list, and #23 for LGBTQ-Friendly.  
Niche, a popular college search tool used by prospective students around the world, gives annual report cards with grades for 12 indicators, including academics, student life, and diversity. Macalester College's overall grade for 2024 was an A+. The college was also ranked #1 Best College in Minnesota, #3 on Niche's Best Colleges Without an Application Fee in America, #14 among Best Liberal Arts Colleges in America, and #15 among the Best Small Colleges in America. 
The College Access Index from the New York Times ranks the nation's most selective schools in order of economic diversity. Macalester College was ranked #71 out of 286 selective colleges and universities. 
The Campus Pride Index aims to improve campus LGBTQ+ policies, programs and practices and assesses eight factors, including student life, campus safety, and support & institutional commitment. In 2023, Macalester received five out of five stars and the Premier Campus designation. 
Washington Monthly's annual rankings incorporate social mobility, research, and promoting public service with the goal of assessing how colleges contribute to the public good. For 2023, Macalester ranked #22 among liberal arts colleges overall. 
Money rates colleges based on quality, affordability, and student outcomes. Macalester received 4.5 out of 5 stars and was named to the magazine's list of America's Best Colleges. 
Research.com takes into account institutions' academic excellence, the range of degree programs, affordability, and return on investment. In its Best Colleges in America Ranking 2023, Macalester was ranked #13 in its Most Popular Colleges in the Midwest category.
Learn more about Macalester College at macalester.edu.