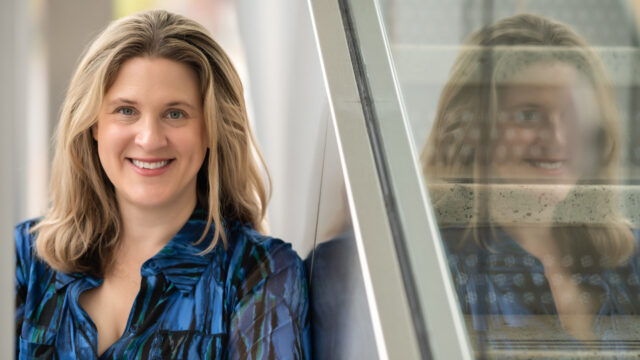 October 10, 2023– Today, President Suzanne M. Rivera announced that Joanna E. Curtis '97 will become Macalester's next Vice President for Advancement and a member of the college's Senior Leadership Team. A 20-year fundraising veteran, she comes from the University of Memphis where she spent 15 years in Advancement, most recently as the Vice President for Advancement. Her first day in her new role is November 6. 
"This is an exciting time at Macalester as we plan our next fundraising campaign in support of the college's strategic plan and comprehensive campus plan. Having Joanna's extensive leadership and advancement expertise will be enormously helpful as we embark on this journey," said President Rivera. "She has set fundraising records at her previous institution, and has a proven history securing transformational gifts. The fact that she is a Mac alumna means she comes to us not only with professional savvy, but also with a very authentic personal experience upon which to draw."
Curtis was hired following a national search led by co-chairs Dr. Shilad Sen and Sara Suelflow '88 P'26, '26. Members of the search committee included: Dr. Lisa Anderson-Levy P'23, Donnie Brooks, Kim Cole '96, Aisha Gonzalez, Dr. Andrea Kaston Tange P'26, Andrew Kaufteil '01, Reagan Kimzey '24, Gary Martin, Dr. Paul Olson '72, Dr. Andy Overman, and Sophia Salinas '24.
"The search committee was impressed by Joanna's storytelling about the Macalester experience, her history of innovative fundraising approaches, and her expertise in engaging in equity-centered fundraising practices," said Dr. Shilad Sen, who co-chaired the search committee.
"I am delighted to welcome Joanna back to Macalester, and look forward to working with her in strengthening support for the college's future," said search committee co-chair Sara Suelflow '88.
In her most recent role at the University of Memphis, Joanna led a team of 50 and was responsible for academic fundraising for 13 colleges and schools, as well as alumni engagement and volunteer management. She served on the President's Council and worked closely with the Board of Trustees on fundraising strategy and counsel. 
"I'm thrilled to be returning to my alma mater to lead the advancement team at such a pivotal moment for the college," said Curtis. "For me, this is the pinnacle of my more than two decade career in fundraising and higher education. The new strategic plan promotes values and priorities that I believe in, and I look forward to engaging more alumni and community members in the life of the college to advance the plan."
Curtis is active in her community and in her profession. She is a cabinet member for District 3 for the Council for the Advancement and Support of Education (CASE) and, in 2020, she was named Outstanding Fundraising Executive by the Memphis chapter of the Association of Fundraising Professionals. She is a board member for the Madonna Learning Center and, in 2019, she was named a Superwoman in Business by the Memphis Business Journal. 
A member of the Macalester College class of 1997, Curtis graduated with a double major in history and religious studies and a minor in communication studies. She earned her master's in Public Administration from the University of Memphis, and is a CFRE International Certified Fundraising Executive.
She and her husband Chris Herrington '96, a journalist, have two children and three rescue dogs.