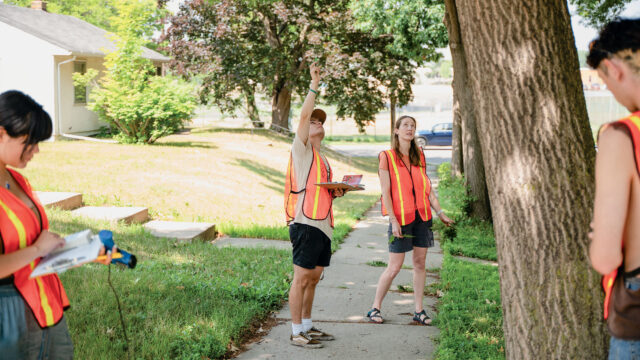 Photos by John Schoolmeesters
If you know St. Paul and Minneapolis, you know that both cities' streets were once shaded by large canopies of ash trees.
A small beetle changed all of that. The emerald ash borer targets ash, one of the most common street tree species in the Twin Cities. The beetle was accidentally introduced to the Midwest a few decades ago. Once heavily infested by the emerald ash borer, ash trees rapidly decline in health and are often dead within a few years.
By 2024, St. Paul will have removed nearly 30,000 ash trees from its streets to stop the infestation, greatly reducing the city's urban canopy. This wide-scale removal of ash trees, many of them over half a century old, is changing the lived environment of the affected neighborhoods. Biology professor Mary Heskel and a team of student researchers spent the summer looking at the impact of ash tree removal on shade and temperature, and her students gained new research skills along the way.
"While I wasn't super familiar with this topic at first, I quickly learned just how important this research is," says Romeo Gomes '24 (Adairsville, Ga.), an environmental studies major. "The removal of such a large scale of trees can have massive impacts on the city and communities in it. With far fewer mature boulevard trees, our streets will get much hotter, making enjoying the city on foot and bike far less pleasant for everyone."
Together, Heskel and her students developed the experimental design and site selection. The students—composed of geography, environmental studies, and biology majors—brought expertise in different areas to inform the project, from GIS mapping to tree identification to local knowledge of the Twin Cities as well as data organization and visualization in R. Their different academic and personal perspectives on research, says Heskel, really benefited the study.
Before getting out in the city, the team read scientific articles about urban trees, the emerald ash borer life cycle, and street tree measurement techniques, and discussed them as a group. They developed hypotheses and identified experimental treatments within the urban context that would allow them to test those hypotheses. After developing an experimental approach that could be replicated at each site, they spent almost a whole day identifying appropriate sampling sites for districts within St. Paul to get coverage across a range of neighborhoods and mapping them using GIS.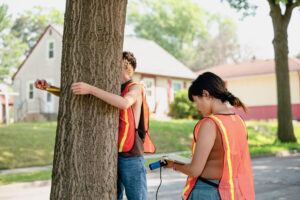 Field days, says Heskel, were "hot and active," and water bottles and hats were essential. Students regularly biked to sites around St. Paul, donning orange visibility vests while taking measurements on the streets. "The Canadian wildfire smoke and heat made the air quality so poor we had to cancel field sampling for many days," she says. "Experiencing this while researching the mediating effects of trees on urban climate felt heavy."
While St. Paul is replacing the old, large ash trees with new saplings of different species, it may take decades for the new plantings to provide the same benefits as those removed. This "shade gap" and deficit in the cooling effects of the canopies is even more critical as climate change makes summers more severe in the Twin Cities.
Gomes says that "it was surprising to better understand just how impactful street trees, and their removal, are in controlling ambient temperatures along our streets. While this makes sense, as trees provide shade etc., the temperature difference between streets with removal and those without removal were so drastic it took us all by surprise."
During the final week of the project, the team conducted data analysis and visualization, and made posters to present at the Academic Summer Showcase during MacFest. "It was great to observe students gain so many skills in such a short period of time, all while working on data they generated from field collection," says Heskel. Each student took on different analyses and questions, ranging from the impact of home values on shading effects of street trees, to sapling mortality likelihood based on species for the newly planted trees.
Summer 2023 was just the beginning for this project. This fall and moving forward, Heskel and her lab will collaborate with geography professor Xavier Haro-Carrión and students in his Advanced Remote Sensing class to scale the street-level data to satellite imagery. This research approach allows for the team to broaden the resolution of canopy loss across St. Paul. And of course, more data is always needed–Heskel and more students will continue to hit the streets for street-level data in summer 2024 as well.
Gomes says the best thing about the project was getting to be active in the community and observe real-life changes that are unfolding right before our eyes.