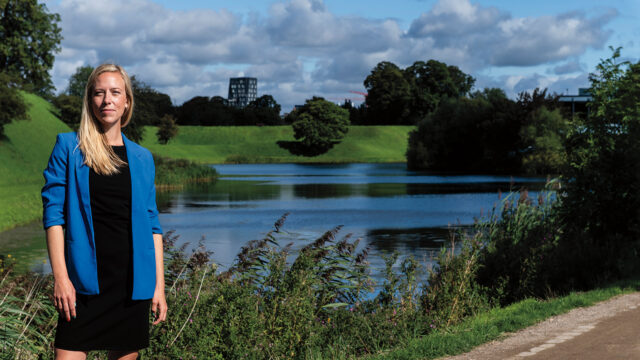 By Robyn Ross / Photo by Matthew James Harrison
Nina Porst was spending Easter weekend in 2021 at her family's vacation home when she got a work-related phone call. A press officer in the Ministry of Environment—where she headed the unit that works on environmental permitting, industry regulation, and soil contamination—was on the line. In a worried voice, he explained that a small Danish town had found elevated levels of the "forever chemical" perfluorooctane sulfonate, or PFOS, in its wastewater. The town had traced the chemical to a field where, more than a decade ago, emergency responders had used a fire-extinguishing foam that contained PFOS.
In recent years, a group of local residents who wanted pastured meat had been grazing cattle on the field. Unbeknownst to anyone, the cows were eating grass and drinking water with elevated amounts of PFOS. Now, her colleague told her, residents were being tested to see if they were harboring PFOS in their bodies.
"It started this kind of ripple effect," she says. "I don't think anybody really had a clue as to how extensive this contamination would be."
Porst was tasked with coordinating the Danish strategy on PFAS (short for per- and polyfluoroalkyl substances), a category of chemicals that includes PFOS. The chemicals are widely used in products including stain-resistant fabric, food packaging, paint, and nonstick cookware, but they break down very slowly and can accumulate in the body, potentially causing disease. Authorities began testing for PFAS and PFOS and discovered they were present practically everywhere: in rainwater, wastewater, fertilizer, and wild game. In response, Denmark and several other European Union countries have together proposed a ban on the substances.
Porst's work on PFAS is emblematic of the challenges she encountered during her four years at the Ministry of Environment. "There's public support behind the green agenda, climate initiatives, and making the tough decisions," she says. The tricky part is taking action: Preventing harm from PFAS when so little is known about how the chemicals spread and how to remove them. Shifting to greener technologies when they cost more up front. Encouraging Danes to part with their beloved wood-burning stoves.
Porst grew up in a small Danish town and spent tenth grade as an exchange student in Lexington Park, Md., a military town near the Chesapeake Bay. There, she encountered a far more ethnically diverse, competitive, and dedicated group of students than she'd known in Denmark. She applied to spend the rest of high school in Norway at United World College Red Cross Nordic, where she learned from a recruiter about Macalester's emphasis on internationalism, volunteering, and generally making the world a better place.
At Mac, she majored in political science and Hispanic studies (now called Latin American studies). As she had been in tenth grade, Porst was impressed with and invigorated by her fellow students' ambition. "The dedication and hard work inspired me to be better," she says. Her Mac experience also amplified an internal voice that pushed her to choose a meaningful career, not just one that satisfied her own desires.
After Mac she earned a master's in European affairs from Lund University in Sweden. She worked for the Danish parliament and the Ministry of Taxation before joining the Ministry of Environment in 2019 as the team lead for air and noise pollution. She was promoted to head of unit the next year.
One of her first projects challenged a longstanding Danish tradition. Although Danes are generally supportive of environmental initiatives, Porst says, they also love their wood-burning stoves. The heaters are closely associated with the Danish concept of hygge ("hoo-guh"), a sense of coziness, relaxation, and togetherness, even though they pollute the air. Newer stoves have better emissions controls, but it can be difficult for a layperson to tell when a particular stove was manufactured. Porst's office began working with stove makers and the chimney sweepers' association to learn how to determine the stoves' manufacture dates. Her team crafted a plan to require that homebuyers replace or remove stoves manufactured before 2003, and the regulation was passed by the Danish parliament.
More recently, after the Russian invasion of Ukraine, Porst worked to decrease Denmark's reliance on Russian natural gas. The shift was made for humanitarian reasons as well as to prevent a crisis in the event that Russia cut off supplies. But it felt like a step backward: Denmark had been shifting from coal and oil to cleaner natural gas, and suddenly Porst's group was working on a plan for the environmental agency to issue permits for companies to switch back to coal, oil, and other less climate-friendly energy sources.
"It was really a weird situation at the Ministry of Environment," she says. Still, Denmark has such a strong commitment to clean energy—which includes building massive wind farms—that she said colleagues view the situation as "a bump in the road."
This summer, Porst became the executive director for climate, environment, and security for Danish Shipping, the trade organization for one of the country's largest industries. The group has set an ambitious goal of climate neutrality by 2050. Porst said she looks forward to working in the private sector, where she'll get out in the field and take a more hands-on approach to addressing specific challenges faced by industry.
Her new position, like the ones that preceded it, is an effort to focus her professional life on service and solving real problems. The momentum behind that effort began at Mac, she says: "this push to do something better, to make something better, to do something meaningful."
Robyn Ross is a writer in Austin, Texas.