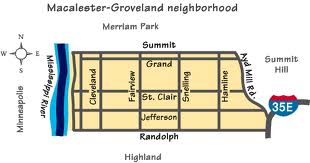 List a House, Apartment, Duplex, Sublet,
or Roommate Request
List a House, Apartment, Duplex, Sublet, Or Roommate-Request Form
---
Studying Away? Looking to lease? Looking for a place?
Network With Other Macalester College Students
Off Campus Housing Need/Interest – MAC Students ONLY
---
Search For Your New Home
---

Rental Listing Information
The Office of Student Affairs at Macalester College neither researches nor verifies the information provided by potential landlords for rental properties, off-campus housing listings or resource guide.

 Although staff have processes in place to post listings from the public-at-large, we encourage students contacting the landlords listed to beware of scams and do your research on a listing before sharing personal information, signing anything and sending money.

Rental listings are added as they are received through the "List a Rental" form and are posted throughout the year.  Sorry, we are unable to post images.  Please be patient, the form submission process is manually done by humans…your submission is not automatically added to the website.
Listings will remain on our webpage for at least thirty days, and will be reviewed and removed after 120 days. If you do not see your listing, feel free to submit a new one.
Landlords, please notify us by email to

[email protected]

when your property is no longer available so we can remove the listing.
Students, please notify us by email to

[email protected]

if you encounter fraudulent or suspicious rental listings, questionable practices or want to share a good or bad landlord experience.
If you are interested in listing a rental property or roommate search, please complete the Listing Request Form.