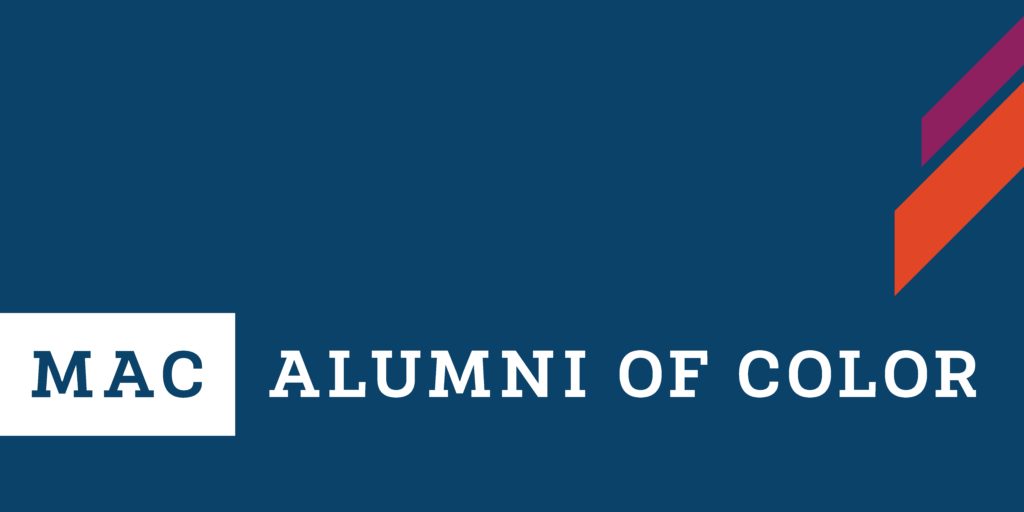 Mark your calendar for the 5th Alumni of Color Reunion, June 7–9, 2019
Our theme this year is RECONCILIATION + CELEBRATION = ENGAGEMENT/ACTION.
We're also commemorating the 50th anniversary of the Expanded Educational Opportunity (EEO) program! As we all join together in community, we'll celebrate the accomplishments of the students who received an education because of the EEO initiative.
If you have not yet registered for reunion activities, you may do so on-site beginning on Thursday, June 6 at 1:00pm in the Ruth Stricker Dayton Campus Center, 2nd Floor Atrium.
View the complete Reunion Schedule.
See you there!
Your Alumni of Color Reunion Committee
WEEKEND SCHEDULE
FRIDAY, JUNE 7
5:30–6:30 p.m.
Alumni of Color Friday Celebration Reception
Janet Wallace Fine Arts Center, Lowe Dayton Arts Commons
6:30 – 8:30 p.m.
Alumni of Color Friday Celebration Dinner $
Come celebrate the many accomplishments and contributions of Alumni of Color and their active commitment to and support of the principles of multiculturalism, diversity, and inclusion.
Reservations required. Space is limited and subject to availability.
Theater and Dance Building, Fox Studio
9 p.m. – Midnight
Alumni of Color "Friday Night Celebration" With a performance by Sounds of Blackness
Join alumni of color in celebration with conversation, games, music, and dancing. All alumni are welcome to attend.  Cash bar. Sounds of Blackness to perform from 9:15-10:45.
Co-sponsored by the Department of Multicultural Life, the Alumni of Color Reunion Committee, the Alumni Board's Diversity Working Group, and Alumni Engagement.
Theater and Dance Building, Theater
SATURDAY, JUNE 8
10:30 a.m. – 12:00 p.m.
Sankofa: Reflections Upon The Expanded Educational Opportunities Program and the Future of Diversity at Macalester
Upon this year's 50th Anniversary of the Expanded Education Opportunity (EEO) Program,  join Macalester alumni to examine Macalester's commitment to Multiculturalism, one of the distinguishing values of the college.  Hear from alumni whose experiences span the mid-60s to the EEO Program established in 1969, then through the various iterations of Minority Programs, to Macalester's current efforts to promote and support Diversity and Inclusion.  Barbara Phillips '71 will moderate this event with speakers Warren Simmons '73, Shelley Carthen-Watson '82, Michael Dueñes '91, Myhana Kerr '18, and Marjorie Trueblood, Dean of Multicultural Life.
Weyerhaeuser Memorial Chapel
2-3 p.m.
Celebrating Kofi Annan's Legacy (SOLD OUT: RUSH LINE ON-SITE)
To celebrate the incredible life and legacy of Macalester alumnus Kofi Annan '61, President Brian Rosenberg will moderate a conversation with Tonderai Chikuhwa '96, Kofi Amoo-Gottfried '01, and Linnea van Wagenen '07, alumni whose personal and professional lives have been inspired by Annan's example. This event is ticketed. Doors at 1:30 p.m.
Janet Wallace Fine Arts Center, Mairs Concert Hall
3:30 – 5 p.m.
Alumni of Color Intergenerational Conversation
In conjunction with the 50th anniversary of the Expanding Educational Opportunities (EEO) program, Macalester College will commission a public artwork to commemorate the progress and look to the future for students of color on campus and the alumni who paved the way. This journey is different to every individual and has taken many forms over the course of Macalester's history. Jason Jackson, director of the Lealtad-Suzuki Center will lead a discussion with alumni of color to understand what stories and themes have been important in the work of diversity at Macalester.
Theater and Dance Building, Room 206
PLANNING COMMITTEE
Committee Lead
Rick Grubb '73
Committee Members
Melvin Collins '75
Michael Duenes '91
Linda Kennedy '72
Myhana Kerr '18
Kathy Pinkett '75
Gene Stump '74
Kim Walton '79
Shelley Carthen Watson '82