Why the Department of Spanish & Portuguese?
The department teaches the languages and cultures of the Hispanic and Luso-Brazilian world.
We offer specialized courses in literature, linguistics, U.S. Latina/o studies, translation, and the visual arts.
We believe in serving the Twin Cities communities through service learning, participation in local cultural life, and internships, thereby educating our students both intellectually and civically to become the leaders of tomorrow.
---
Casa Hispana: On-Campus Spanish-Language Residence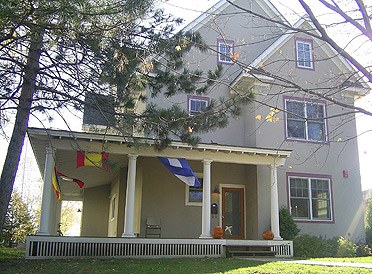 Live in a great house where you can speak Spanish, participate in cultural events, and share a great space with warm community!
Residents must have completed SPAN 204 or 220 (or have tested out of Macalester's language requirement in Spanish), agree to speak only Spanish in the house, and must take a course in the Department of Spanish & Portuguese each semester they live in the house. Students who live in Casa Hispana are not required to be on a campus meal plan, though some decide to purchase the meal plan anyway, and applicants can choose from several single- and double-occupancy room options.
Applications for each upcoming academic year open in February or March. On the rare occasion we have an unexpected opening for Spring, a brief application period will come along in the October/November time period. We'll always post here and in The Mac Daily when applications are open so you won't miss out!
Check out our Casa page for more info.
---
Department of Spanish & Portuguese – Homepage Buttons (Department Homepage Buttons)