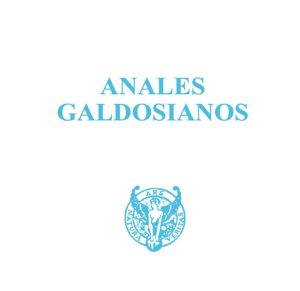 Print ISSN: 0569-9924 / Electronic ISSN: 2161-301X
Anales Galdosianos is an academic journal published yearly by the International Association of Galdós Scholars. Founded by Rodolfo Cardona in 1966, it is one of the principal international journals devoted to nineteenth-century Hispanic studies. It welcomes scholarly articles, primary documents, and book reviews about the life and works of Benito Pérez Galdós and his contemporaries, as well as essays related to nineteenth-century literatures and cultures of Spain. We accept individual articles as well as articles for our monographic issue. Anales Galdosianos is grateful to Macalester College for its generous financial support.
Anales Galdosianos uses double-blind peer review to evaluate work submitted to the journal for publication.
Anales Galdosianos is cataloged in the following databases: Emerging Sources Citation Index, IBZ Online, Periodicals Index Online, MLA-Modern Language Association Database, DIALNET, MIAR, Latindex.
Editorial Board
Founder: Rodolfo Cardona
Honorary Editors: Peter Bly; Hazel Gold; Alan E. Smith
General Editor: Toni Dorca
Assistant Editors: Sara Muñoz-Muriana y Gabrielle Miller
Book Review Editor: David R. George, Jr.
Editorial Assistant: Megan Padilla
Advisory Board
Eugenia Afinoguénova, Marquette University
Luis Álvarez Castro, University of Florida
Yolanda Arencibia, Universidad de Las Palmas de Gran Canaria
Mercedes Comellas, Universidad de Sevilla
Elena Cueto Asín, Bowdoin College
Fernando Durán López, Universidad de Cádiz
Pura Fernández, Consejo Superior de Investigaciones Científicas
María Luisa Guardiola, Swarthmore College
Jo Labanyi, New York University
Ignacio Javier López, University of Pennsylvania
Stephen Miller, Texas A & M University
Lisa Nalbone, University of Central Florida
Cristina Patiño Eirin, Universidade de Santiago de Compostela
Ermitas Penas Varela, Universidade de Santiago de Compostela
Assunta Polizzi, Università degli Studi di Palermo
Jesús Rubio Jiménez, Universidad de Zaragoza
Ana Rueda, University of Kentucky
Iñigo Sánchez-Llama, Purdue University
Nil Santiáñez-Tió, Saint Louis University
Adolfo Sotelo Vázquez, Universitat de Barcelona
María Luisa Sotelo Vázquez, Universitat de Barcelona
Lisa Surwillo, Stanford University
Akiko Tsuchiya, Washington University-St. Louis
Noël Valis, Yale University
Linda Willem, Butler University
Forthcoming Issue
Volume 57 (2022)
Rodolfo Cardona, in memoriam
Articles
JESÚS BOTELLO. Un caso de écfrasis en Fortunata y Jacinta: Mauricia y La Libertad guiando al pueblo, de Delacroix
THOMAS FRANZ. Doña Perfecta as Nineteenth-Century Revision of El alcalde de Zalamea
ALBA GUIMERÀ GALIANA. La Idea de intrahistoria: afinidades entre Miguel de Unamuno, Benito Pérez Galdós y Francisco Giner de los Ríos.
MIKEL LORENZO-ARZA. Montañeses y almogávares para salvar la nación: las Escenas montañesas (1864) de José María de Pereda y los Cuentos de mi tierra (1864-65) de Víctor Balaguer
SONIA ZARCO-REAL. Pensamiento nómada y nación española en La vuelta al mundo en la "Numancia" (1906) de Benito Pérez Galdós
Monographic Section
Pardo Bazán and Pérez Galdós: Consonances and Convergences on the Occasion of Two Centenaries
Edited by Toni Dorca, Sara Muñoz-Muriana, and Gabrielle Miller
Presentation
MARGOT VERSTEEG. Saving the Nation? Amor y Ciencia versus Las raíces
STACY DAVIS. Rompecabezas alegóricos: dos piezas compartidas en la cuentística de Benito Pérez Galdós y Emilia Pardo Bazán
LIEVE BEHIELS. Emilia Pardo Bazán y Benito Pérez Galdós: viajes a Italia
ANA RUEDA. La viuda como figura liminal en la novelística de Benito Pérez Galdós y Emilia Pardo Bazán
REBECCA FELL. How Word Gets Around: A Study of Chismografía in Fortunata y Jacinta and Los Pazos De Ulloa
ELENA CUETO ASÍN. Pardo Bazán y Pérez Galdós: una intimidad imaginada en público
Book Reviews
CRISTINA CARNEMOLLA. Escritores y lectores de un día todos. Literaturas periódicas en la España del siglo XIX. Por Santiago Díaz Lage.
DOROTA HENEGHAN. Galdós. Cien años de actualidad. Edición de M. Ángeles Varela Olea
ANA MATEOS. Ghosts of Colonies Past and Present: Spanish Imperialism in the Fiction of Benito Pérez Galdós. Por Mary L. Coffey.
RAFAEL NÚÑEZ RODRÍGUEZ. Galdós: corresponsal de "La Prensa" de Buenos Aires. Edición de Dolores Troncoso
BLANCA RIPOLL SINTES. Epistolario de Emilia Pardo Bazán a Benito Pérez Galdós. Crónica de un encuentro intelectual y sentimental. Edición de Ermitas Penas y Marisa Sotelo
JENNIFER SMITH. Whole Faith: The Catholic Ideal of Emilia Pardo Bazán. Por Denise Dupont.
ERIKA M. SUTHERLAND. Unsettling Colonialism. Gender and Race in the Nineteenth- Century Global Hispanic World. Edición de N. Michelle Murray y Akiko Tsuchiya
JAVIER VOCES FERNÁNDEZ. En los albores de la novela rural. "El sabor de la tierruca" de José María de Pereda. Por Raquel Gutiérrez Sebastián
---
Asociación Internacional de Galdosistas | Biblioteca Virtual Miguel de Cervantes | Project MUSE