by Lydia Schmelzer '24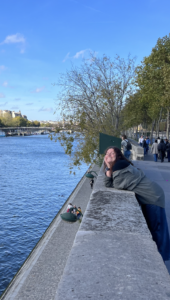 This past semester, I studied abroad in Florence at an art school called SRISA. Living in Italy was such a joy and I felt so lucky to be surrounded by so much history and art in my daily life.  I lived in the city center and took five classes: four humanities classes, and one Italian language class. My favorites were my Beginner Painting class and a class on art of the Italian Renaissance. Since I was living in Florence, we spent much of our art history classes at museums, looking at the paintings and sculptures we studied. Especially as an English major, taking art classes was a great change of pace.
I had completed most of my major requirements before I went to Florence, and was excited to study outside my discipline. With a more relaxed schedule than I usually have at Mac, I found myself reading for fun and tearing through a good number of books. Even though Florence has a lot of tourists and English speakers, their bookstores were smaller with limited English selections. I read a lot of Italian writers in translation, specifically the Italian post-war writer Natalia Ginzburg. When I got back to the US, and had to decide on my capstone, I was really drawn to write about her. After spending some time in Italy, and learning about its history and culture in my classes, I felt I had a little more context and understanding for her work. It seemed that researching and writing about something that was both intriguing and familiar to me would serve me in my capstone, especially as opposed to picking an entirely foreign. 
At first, when I was asked to write about how my study abroad experience complemented my major, I was unsure. Yet, studying in Florence this semester broadened my scope of knowledge in many ways. Taking classes in other academic disciplines helped me clarify and understand my own interests. I think that if I went to an English literature oriented program, I would have taken a more limited array of classes. While it's tempting to go on a major-affiliated study abroad program, I actually would advise doing something more tangential. Taking a break from literature classes gave me perspective and made me more excited about English and literature when I got back to school this semester.