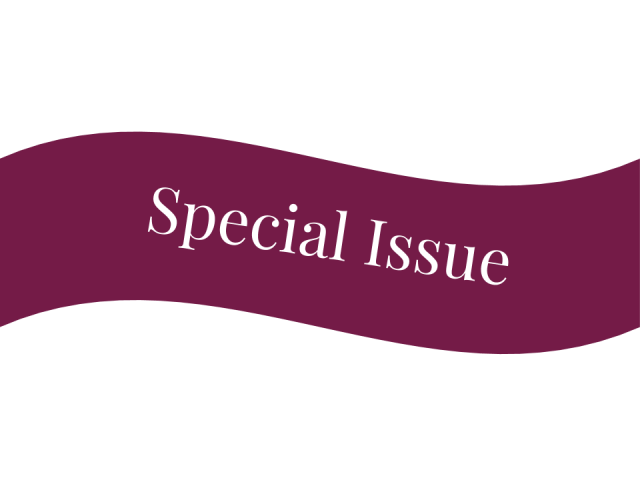 ---
Announcing the 2020 English Department Award Winners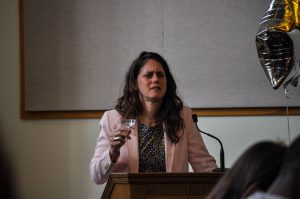 ---
An Honorable Undertaking: Spring 2020 Honors Projects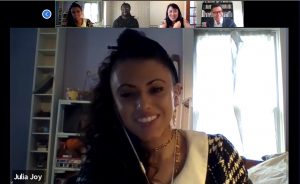 One of the many end of the year events we in the English department most look forward to is watching the culmination of an extensive, year-long study in literature or creative writing in a presentation from our Honors students. Although we were not able to host Honors defenses in person this year, three senior English majors, Julia Joy, Sophia Schlesinger, and Xavier Xin, bravely ventured into the unknown and defended their
Honors Projects virtually via Zoom in April 2020.
Read more about students' projects…
---
Capstones and Congratulations!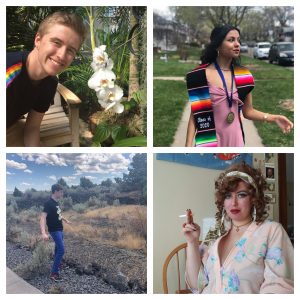 This semester, ten students completed their capstone projects in the English department in both English Literature, a seminar led by Professor Jim Dawes, and Creative Writing, with workshop led by Professor Michael Prior. Congratulations to James Hartzer, Andrea Salas-de la O, Zoe Berkovitz, Amelia Gerrard, Albert Lee, Laura Berglund, Conor Broderick, Rachel Warshaw, Nana Amoah, and Sarah Chinski on your wonderful work! We here in the English Department usually look forward to enjoying students' capstones presentations at the end of each semester. Though we were not able to celebrate their achievements in person, students found creative ways to showcase the culmination
of their academic careers via Zoom presentations and
poem submissions to The Words. Please enjoy a sampling of students' work…
---
English Majors Bea Chihak '20 and Ruby Elliott Zuckerman '20 Honored by ACM Nick Adams Short Story Contest!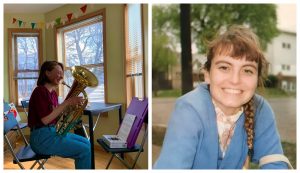 Every year, since 1973, the Associated Colleges of the Midwest sponsors the Nick Adams Short Story Contest. The contest, named for the young protagonist of many Hemingway stories, was first launched thanks to the funding of an anonymous donor who wished to encourage fiction writing at ACM schools. As a participating college, Macalester selects up to four finalists annually to compete for the top prize of $1000. All finalists are judged independently by a nationally renowned, professional writer. Author and lawyer Scott Turrow served as the final judge for this year's contest and awarded Macalester English's own Bea Chihak '20 Honorable Mention for her story Las Hermanas Grimm, and Ruby Elliot Zuckerman '20 with first prize for her story scott disick sucks. This monumental win marks the first time in over a decade that a Macalester student has won the contest. Read more about Bea and Ruby's exciting wins…

---
Chanter Magazine Launches Spring 2020 Digital Issue
Unprecedented times call for creative measures, so says the staff of Chanter, Macalester's premiere literary magazine. Usually, the staff print and publish physical copies of new issues and host a launch party after publication, a soiree that includes live music, fancy hors d'oeuvres, and readings and presentations from student writers and artists published in the newest edition, and a featured English professor. When it became clear that the usual festivities had become untenable, rather than postpone publication, Chanter staff rose to the occasion and continued to hold regular meetings over Zoom, discussing submissions, designing layouts, and planning for their first ever digital launch. Though the magazine has been uploading new issues to their website since Fall 2015, this occasion marks the first ever online-only publication for Chanter.
Read more about Chanter's Spring 2020 issue…
---
Burning Province Reading Group Discusses Professor Michael Prior's New Book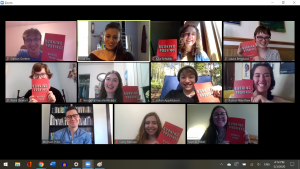 Though members of the English department remain apart, separated by quarantine, several students managed to stay connected through the remote Burning Province Reading Group. Professor Michael Prior's new poetry collection was published in April, but the scheduled book launch had to be postponed due to the COVID-19 pandemic. The English department still found a way to mark the occasion for all, however. Read more about the group's meeting…
---
Farewell from MacSlams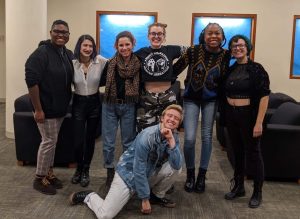 Looking back on MacSlams' year in review, we are overjoyed to have been able to put on the slams we did, and hold physical spaces while we were able. We had a number of new members join, with a mixture of incoming first years along with older students who finally had time in their busy schedules to spend with us! We brought a number of fantastic features to our slams, from all over, and loved seeing everyone who came out, performed, and supported! Read more MacSlams reflections…
---
Newsletter Staff
Senior Editor
Sophie Hilker '20