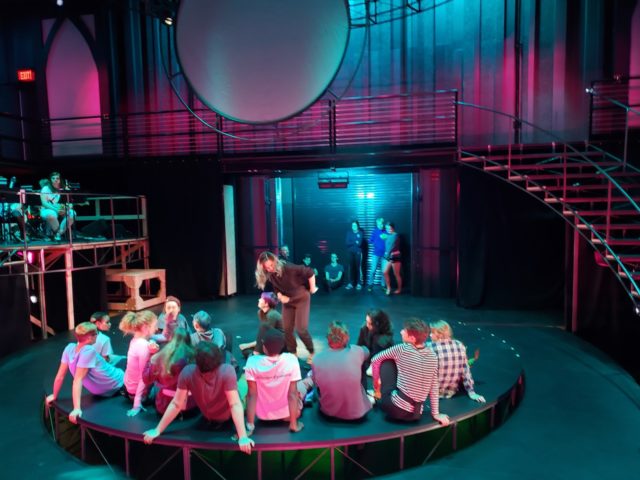 by Malcolm Cooke '21
Crunching on half-brownie half-vanilla madeleines and sipping on Perrier water, members of the English department sat in antici- … … … -pation of Macalester Theater Department's latest: Rocky Horror.
The English Department sponsored the Friday night trip to see this perennial staging of Richard O'Brien's cult classic musical (and more widely viewed film) on its penultimate showing in the newly constructed Theater and Dance Building. Rocky Horror is known for its vivacious participatory screenings in which audience members dress up as characters, toss props on stage, and shout commentary perfectly timed to turn the already raunchy dialogue even more explicit. The musical/film's exuberant celebration of the camp of 20th century sci-fi b-movies (the iconic opening song makes reference to such giants as Forbidden Planet, King Kong, and The Day The Earth Stood Still) as well as the way it introduced a more mainstream audience to LGBTQIA issues, has left this 70s cheese-fest with an enduring legacy.
The Theater Department continued this participatory streak, and the English majors, once inside, found themselves being spritzed by shadowy phantoms during the rainy number, "Over at the Frankenstein Place." Elements of participation were integrated throughout, some of which the cast and crew anticipated, and some of which they didn't.
"No one has thrown rice which is good" Asher DeForest '21, an English major who plays Riff-Raff, Richard O'Brien's character, said.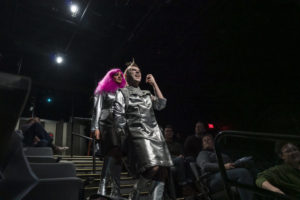 DeForest, a dramaturg himself, found Rocky Horror's tone a perfect match for his aspirations.
"It's fun to act in a crazy absurd comedy, because that's the kind of thing I want to be writing," he said.
But Rocky Horror didn't simply serve as inspiration for later playwriting, DeForest and the rest of the cast, as well as director Harry Waters Jr., got to actively flex their creative writing muscles in the production of the show. The entire cast, even the unnamed Transylvanian extras (a majority of the main characters  comes from a planet called "Transexual" in the galaxy of "Transylvania"), wrote bios for their characters.
"Harry and the rest of the team very much made this a collaborative process; to the point that we even ended up writing a cast and crew note as well as… a director's note in the program, which is very unusual," DeForest said.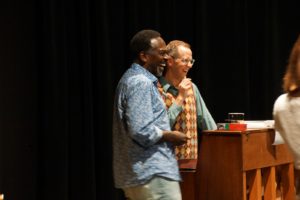 These Macalester specific fingerprints are found throughout the production, with touches like the psychologist narrator being played by a number of professors and staff, including President Brian Rosenberg (who is pictured in one scene erotically stroking a banana). Other twists on the original include the reimagining of Rock-n-Roll ruffian Eddie (played by Meatloaf in the original) as Minnesota music master Prince and a particularly fitting Saxophone solo of the quintessential soft jazz anthem "Careless Whisper."
The saxophone solo was also part of some very deliberate and much more serious alterations. It occurred during one of the more infamous scenes of Rocky Horror, which handles the topic of consent dubiously. The use of "Careless Whisper" along with careful rewriting and directing of this scene, was an attempt to maintain a sense of humor while reworking some more unsavory elements. But these issues can be found elsewhere as well. The brazen eroticism and queerness which makes Rocky Horror so enduring also means that it contains a few terms that would now be considered outdated and possibly problematic.
Part of the appreciation of Rocky Horror today requires that audiences understand the context in which the original show was produced: the decade just before the AIDS crisis and a time period in which society recognized LGBTQIA people even less so than today. During this time, Rocky Horror served as a sequin-decked Trojan horse, making Queer people more visible through the pure catchy-ness of "Time Warp."
"In many ways [Rocky Horror] makes people more comfortable with these ideas because it's something they could just celebrate and have fun with," DeForest said.
However, the problems with the original text can't just be ignored. The production took steps like giving characters such as Janet (who it is customary for audiences to call 'slut' whenever she appears onstage) extra monologues, and thus internality, as well as reworking certain scenes to make them less problematic, while still maintaining the pace and the humor of the production.
And the production definitely maintained its pace of breakneck camp. The English department's section of the audience was sucked into mad scientist Frank 'N Furter's nocturnal, sultry ways, Rocky's melodramatic coming to terms with his status as sexy Frankenstein, and Brad and Janet's journey from repressed American suburbia to the strange and exciting world of sexual liberation.
Pitch perfect casting of the iconic cast made for a production that reminded us all just why Rocky Horror is still so popular today. English Department invitees left the theatre just like every audience does: ready to do the Time Warp… again!