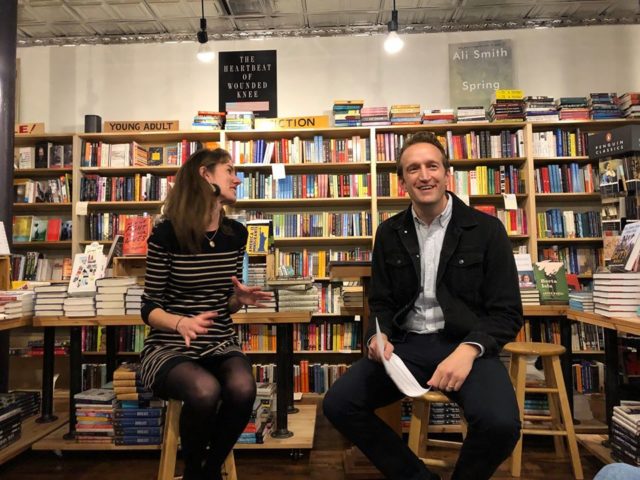 by Harrison Runnels '20
In the last leg of the fall semester, students and professors alike are finishing up their work, getting excited for the holidays, and dreaming of a mild winter. Looking back to earlier this year, The Words asked Macalester alum and English Professor Peter Bognanni '01 about his First Year Course — Introduction to Creative Writing.
What makes this First Year Course unique?
My first year course, Intro to Creative Writing, is actually a version of a course I normally teach. I've made changes to reflect the fact that I'm instructing new students. There are more varied, shorter assignments. More "low-stakes" assignments to build some early confidence. And there is even more of a focus on creating community in the classroom. A lot of my students might be sharing politically or emotionally charged work with peers for the first time. Hopefully, my classroom becomes a space where they learn to navigate those kinds of tense situations and grow more assured in their voice as a result. 
Why did you make this class? 
I think creative writing allows you the chance to discover what you really believe and how you see the world. You can't hide from yourself in writing. I've tried. Sooner or later, you have to figure out what you want to say with your art. Or, alternately, you find yourself surprised at what you just wrote. So in addition to building writing skills and having the chance to make art early in college, I'm hoping there is some genuine self-discovery going on as the semester unfolds. I don't think that's too much to ask for. 
What is your mission/aim for the class? What are the major themes you will cover and what, most of all, do you want your new students to take away from the class?
By the end of this class, I want the students to have a solid understanding of the big three genres in creative writing: poetry, fiction, and the personal essay. I want them to feel confident reading them and writing them. I want them to have a basic understanding of the rules, and also how they might break the rules to say something new. Additionally, I want them to feel like they formed a community of people who take their artistic work seriously. But even if they just feel a sense of pride in having written things they initially felt scared to write, I'll take that as a win. 
What personally do you bring to the class in either interest, experience, or enthusiasm?
I have published three novels, and I have also failed to publish or given up on two novels and numerous short stories. Both kinds of experience are important. I know what it's like to have breakthroughs that lead to feelings of accomplishment, and I know what it's like to feel like nothing that you write is or will ever be any good. Most writers battle with this everyday, and I try to be honest with my students about this, and what tricks we might employ to do our best work without letting the self-doubt take over. Also, maybe this goes without saying, but I think spending three hours a week talking about stories is the best possible way to spend three hours. 
What are you most excited about for the upcoming semester? 
First year classes are the best. The energy. The willingness to take just about any creative risk. The friendships that form. More than any other classes I teach, I feel like I really get to know the students in a complete way. I look forward to reading the work, yes, but also to seeing the way students change as people. It's one of the best things about teaching.
Outside of his First Year Course Peter had some other exciting developments this year. He spoke about his new young adult book, This Book Is Not Yet Rated, which just came out last April and that the movie of his first book, The House of Tomorrow, recently opened in South Korea.