by Alice Asch '22
Lily Duquette (she/her), a senior with an English Lit major and a Psychology minor, has spent this semester abroad in Prague! She was kind enough to write to us about all her amazing experiences. Enjoy her letter below. 
---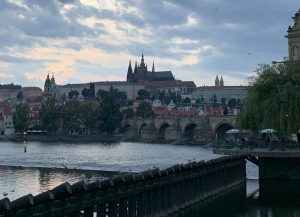 Dear Words readers,
At the beginning of 2021, I wasn't sure if I would make it to my study abroad program in Prague but by some miracle, here I am, wrapping up finals and buying tickets to come back home. 
I had decided on the CET Prague program almost a year before, and looking back, I'm glad I did. We had a small program this semester, only twelve people in total, but I think that might've been my favorite part. All of my classes had only about five to seven people, so we each had a very personalized experience and the chance to connect with our professors. One of my favorite classes was the "Franz Kafka and Central European Literature" course. Now, Kafka's writings are not always my favorite, but our class was led by a wonderful professor and I found myself looking forward to it much more than I thought I would. Another reason for this was because the novels we read deal frequently with popular places in Prague and Central Europe, so each of the authors' references connect to places I've seen in person. 
And really, all of our classes were centered around this applied learning. We've easily spent a third of our class time outside of our program's buildings exploring Prague. We've gone to places like Prague Castle, the Kafka museum, the National Film Museum (NaFilM), and many, many more, each for a different course. Of course, in my own free time, I've explored plenty of the city myself as well. 
As another little summary for my time in Prague, I'll talk about two of my favorite spots here. The first is a beautiful, centuries old library, tucked away in the tower of a much larger complex. It's practically something out of a dream, with frescos covering the ceilings and ancient globes lined up on the floor below. Naturally, the final touch with this magical library is that no pictures are allowed of the space. Although many exist on Google anyway, I'll just pretend that it'll stay hidden away. (Oh, and it's called the Klementinum Baroque Library, if you'd like to look it up for yourself.)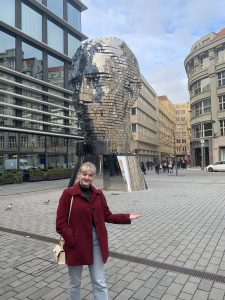 The second place is somewhat less magical, but one that I visit nearly everyday. It goes like this: in Prague, there is a large statue of Franz Kafka's head. It is a fun monument to visit because, on the hour, the whole thing will begin to rotate. Well, by some coincidence, it also happens to be right next to our course buildings and, on my way to Kafka class on Monday and Wednesday mornings, I get to pass by the statue and see it begin to rotate. Sort of anti-climatic, but it really captures the essence of my experience in Prague. Each day, I sit in a classroom learning about Prague and when I step outside, the faces in the books are looking back at me.
Now currently planning for graduate school in Europe,
Lily