Patrick Coy-Bjork '23
The Words is proud to introduce our new Social Media Strategist Patrick Coy-Bjork '23. Patrick joined the English Department's team of student workers last fall as an office assistant. 
Over the course of the fall semester, former Social Media Strategist Malcolm Cooke '21 showed Patrick the ins and outs of the department's Facebook and Instagram profiles. Malcolm has since departed for his study away program in Germany and Austria, but he will return as a Newsletter Editor next fall. Patrick, however, is ready to ascend the social media throne full-time, so get ready for some lovely new content! 
---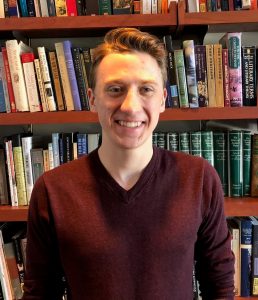 Hi, I'm Patrick Coy-Bjork! I use he/him/his pronouns and am from Madison, Wisconsin. I'm interested in studying Psych, Theater, and Creative Writing. Writing has always been a big passion of mine. In my senior year of high school, I wrote and directed an hour-long play about a farcical murder mystery. I hope to keep playwriting here at Mac! A fun fact about me is that I am absolutely obsessed with the CBS reality-competition show Survivor. I've seen all thirty-nine seasons and could name any winner off the top of my head.
Everyone should follow our department's Facebook and Instagram accounts! They're a great way to keep updated on events happening in the department and learn more about our faculty and staff. Working with our social media has been a really engaging experience for me. Last semester, we had a series of #ThrowbackThursday posts in which we featured English alums now working on campus. Through this, I got to learn about the experiences faculty and staff had learning and working at Mac. This job has also ignited a new interest in photography. I've really enjoyed taking photos around campus and displaying them on our Instagram. If any students have any English-related photos or information to feature on our social media, please send them to me at [email protected] or directly message our Instagram page: @macalesterenglish.