Miriam Moore-Keish '19
Gary Snyder—poet, essayist, member of the Beat Generation, and leader of the San Francisco Renaissance—arrived on campus Wednesday, October 17 to host three events: a conversation on the fourth floor of Old Main in the morning, a poetry reading in Kagin Commons in the evening, and an EnviroThursday talk on October 18.
Since his career began in the 1950s, Snyder has continued to gain momentum and attention. He and Allen Ginsberg debuted their respective poems, "The Berry Feast" and "Howl," at a poetry reading in October of 1955 at San Francisco's Six Gallery.  Snyder has since been praised by The New York Times Book Review, The New York Review of Books, and The Paris Review. Snyder received the Pulitzer Prize for Poetry in 1975 for Turtle Island, a book of poems and essays. Other awards include the American Book Award, the Bollingen Prize for Poetry, the John Hay Award for Nature Writing, the Ruth Lilly Poetry Prize, and, most recently, the Best Poems of 2018 along with our own Professor of Creative Writing Wang Ping.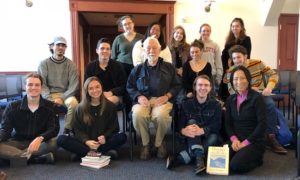 In the morning, Snyder met with English students for a Q&A session. He reflected on poetry, saying, "people don't understand the difference between prose and poetry." He clarified that, "the difference is: you can make yourself write prose, like you can make yourself write your college papers, but you can't makeyourself write poetry. It has to come from somewhere inside you." Snyder also told students that "life informs poetry, whatever kind of life you lead."
He echoed similar sentiments in the evening. Professor Ping introduced Snyder, whom she met in 1989 at the first Chinese-American Festival where she served as Allen Ginsberg's translator. She recalled Snyder's "Cold Mountain" being responsible for her desire to start writing poetry. Snyder responded, "You have a better memory than me."
Known for spiritual and ecological poetry, one can see Gary Snyder's appeal for both the English and Biology Departments. The Biology Department hosted the reading as The Engel-Morgan-Jardetzky Distinguished Lecture on Science, Culture and Ethics on Wednesday night. Snyder began the night saying, "It's been a puzzle to me the last few weeks as to what I'm doing here. I was told it was a lecture, a poetry reading, I should do what I like…what do I like?" He decided to do all of the above. He featured some new poems which "no one's ever heard before…which is just as well."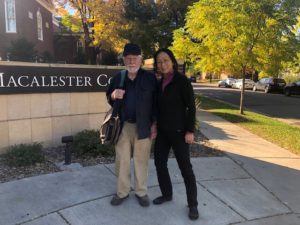 Snyder saturated the evening with moments of spontaneous humor and humanity. At one point he asked, "What time is it?" and answered 
himself, "It's time to fire me." Snyder mused, "I write about physical reality and my own physical reality is a little more frail than I thought it was." He interrupted a reading of "Starting the Spring Garden and Thinking of Thomas Jefferson" to ask, "Do you know what an aubergine is? It's an eggplant. I don't like the name eggplant so I always use aubergine."
The evening featured another opportunity for questions and answers. One audience member asked "How do we deal with despair?" Snyder 
said, "In Buddhism we say everything is improving. So no need to despair! But keep dealing with the hard realities."
English student Albert Lee '20 asked "What is the role of poetry in combating climate change?" to which Snyder responded, "It has no role! It probably supports climate change! You don't ask poetry to do a job for you."
As someone who expects poets to raise voices and incite social change, I found myself struggling with his standards for poetry. If not change or a movement, what is poetry? According to Snyder, it is a break, a pause, an appreciation. Sometimes we can't change things. Sometimes we have to notice them. Snyder tells us, "If you want to be a poet, do not be prepared for poetry. Be alert to when you have slipped to the verge of poetic thinking and don't let it go."