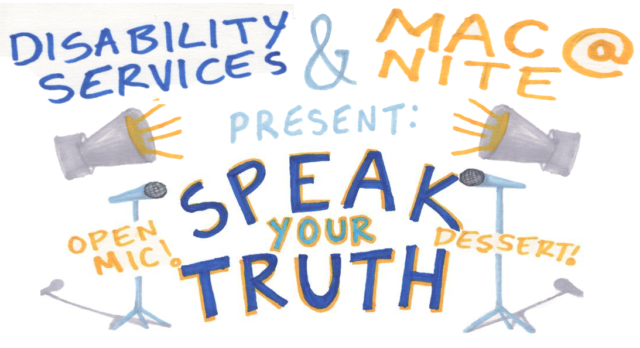 by Harrison Runnels '20
On December 6, a Disability Services and Mac @ Night event, Speak Your Truth, will aim to create a space of engagement for those living with disability. The Words sat down with English major, Jackson Ullmann '20, the event's creator and Director of Disability Services, Melissa Fletcher, to discuss the project. 
Speak Your Truth originally started as a Radical MacACCESS event in the spring of last year. Radical MacACCESS was Disabilities Services' way of showing students, faculty, and staff that they are here and displaying their many programs and resources. Speak Your Truth didn't fit into the event at the time but Fletcher and Ullmann decided that it would be worthwhile to make a separate event in the fall semester.
Their goal is for Speak Your Truth to do more than just create awareness about life with disability; they want to promote engagement with it. The event consists of two parts. The first is a space for members of the Macalester community to share their experiences of life with disability. This includes an open mic to support a variety of oral performances from slam poetry to stand-up comedy. There are also avenues for attendees to speak their truth anonymously. This can be done via off-stage oral performance or via conduit, a Disability Services staff member who can tell a story in place of the writer. All speakers' words will be captioned to increase accessibility. The second part of the event is an anthology of written and visual content called See Your Truth, which will be distributed to those in attendance. 
Ullmann urges those who are interested in submitting to the anthology to do so. He and Fletcher will be accepting submissions come November.
Speak Your Truth is intended primarily for students but is open to all. Ullmann encourages faculty, staff, and alumni to attend because those are often the people who have the most restrictions in sharing their stories. 
Along with Ullmann and Fletcher, the event got a lot of help from alum Leah Wilcox and student Dylan Larson '20, as well as English Professor Matthew Burgess, who will be hosting a writing workshop for those wanting to learn about shaping and editing their stories for the anthology. 
Speak Your Truth will be held on December 6 at 8:00 pm in the Loch. 
If you'd like more information, contact Jackson Ullmann or Melissa Fletcher at [email protected] and [email protected].