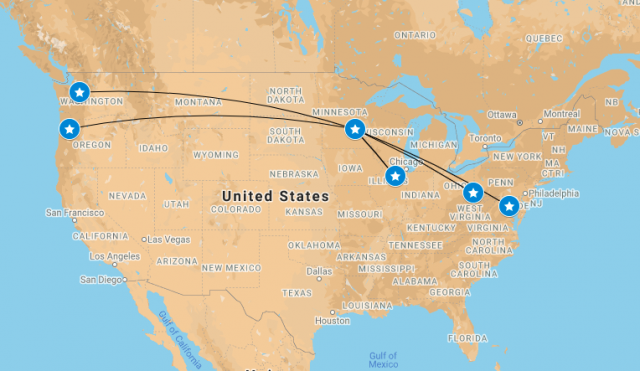 by Kira Schukar '22
This year's first officers' meeting of Macalester's English Honors Society (EHS) looked distinctly different from last spring. Instead of walking up the tile staircase in Old Main and finding a seat in the English lounge, I sat on the worn red couch in my living room, opened my email on my phone, and clicked a Zoom link. The faces of this year's returning officers—Eric Fong '21, Nora Stewert '21, and Amy Vandervelde '21—popped up on my screen, and I heard the voices of the two other new officers—Dalton Greene '22 and Shelby Kruger '22—from their respective rectangles.
I hadn't met with the other EHS officers since early July, and since then a lot had changed. In August, Macalester announced that the first module would be held remotely, and that only first-years could live on campus. For the EHS officers, this announcement meant that we would be scattered across the country—with Shelby and Eric Zooming from the Pacific Northwest, Dalton and Nora representing the East Coast, and Amy and I inhabiting the Midwest—for much longer than we initially thought.
Discovering that I live more than 300 miles from the closest EHS officer—and more than 1,400 miles from the furthest—felt jarring, especially when I considered that I was seeing and talking to all five of them, from five different states, on a screen the size of my hand. Everyone felt so close, but I still missed them.
This feeling was universal during the first EHS officers' meeting. We had planned on talking about plans for the semester, and for part of the meeting we talked business—virtual book festivals, radio dramas, book recommendations, authors' readings, and a Zoom Apps & Alums are all on the horizon for the English community—but a larger part of the meeting was spent checking in with each other, asking about plans for the semester, and figuring out how to move forward at a time when everyone is staying put.