Community Citizenship Report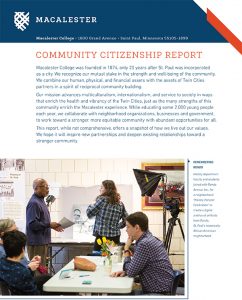 Macalester College was founded in 1874, only 20 years after St. Paul was incorporated as a city. We recognize our mutual stake in the strength and well-being of the community. We combine our human, physical, and financial assets with the assets of Twin Cities partners in a spirit of reciprocal community building.
Our mission advances multiculturalism, internationalism, and service to society in ways that enrich the health and vibrancy of the Twin Cities, just as the many strengths of this community enrich the Macalester experience. While educating some 2,000 young people each year, we collaborate with neighborhood organizations, businesses and government, to work toward a stronger, more equitable community with abundant opportunities for all.
This report, while not comprehensive, offers a snapshot of how we live out our values. We hope it will inspire new partnerships and deepen existing relationships toward a stronger community.