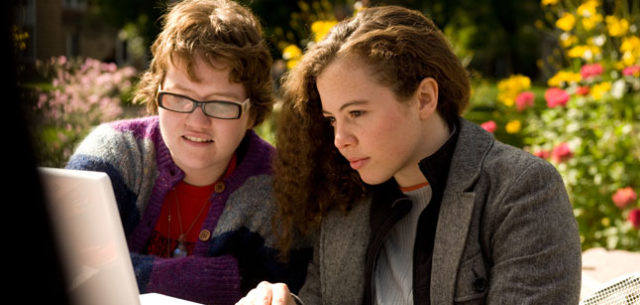 Who Are Academic Advisors?
Academic advisors are faculty members who are ready to help students plan their academic programs, think about personal and career goals, and integrate their various experiences in order to make the most of their time at Macalester.  Academic advisors are knowledgeable about graduation requirements, the curriculum, and institutional and community resources.  They are prepared to make appropriate referrals when a student requires assistance outside of the advisor's area of expertise.
Macalester considers advising a form of teaching and believes students are best served when they have a team of faculty supporting them.  Students have one primary advisor.  That person will provide the PIN for pre-registration.  Students have the option of adding up to two additional advisors to reflect the guidance they are receiving in a second major, minor or concentration.
Students begin with advisors who are the instructors of their First Year Courses. This arrangement provides students ample opportunity to receive advice and guidance on a whole range of issues. Those who enter Macalester as transfer students are assigned an advisor based on their academic interests.  The initial primary advisor is responsible for assisting students with selecting a major and identifying potential advisors in the major department.  We expect a student's primary advisor to be in a department in which the student is majoring.  Students must declare a major before they register for their junior year; however, they may declare a major as early as the first-year or as late as the senior year, if they can complete the required coursework before graduation.
Must Students Do What Advisors Recommend?
Academic advisors will listen to their advisees, point out appropriate curricular choices and help them navigate the complexities of the college experience. The final decision about which courses to take, however, and with which activities to be involved, is left to the student. Students are also responsible for monitoring and meeting graduation requirements, for reflecting on their experiences, and for seeking out guidance and support in a timely manner.
How and When Should Students Contact Their Advisors?
All Macalester faculty members maintain regular office hours and students are encouraged to stop by for advice at those times. During registration periods advisors are ready to assist students with course selection and registration, program changes, and declaring majors, minors and concentrations. Two advising weeks, one in each semester, have been designated to correspond with registration periods. However, it is wise for students to contact their advisors on a regular basis in order to develop a good working relationship. Advisors can be most helpful when they know what their advisees are thinking about and with what types of activities they are involved.
Each advisor will have a preferred method of being contacted. Many advisors encourage requests for appointments or other simple questions via email. Some advisors maintain sign-up sheets on their doors for appointments with advisees and other students.
How Do Students Change Their Primary Advisors or Add to Their Teams?
A student is free to select a new primary advisor anytime after the first semester is completed.  The Academic Programs and Advising Office, 215 Weyerhaeuser Hall, processes advisor selection forms.
EFFECTIVE March 9, 2022, students wanting to change their advisor or add to their advising team should use the new automated Macalester College Advisor Selection Form found in the "Academic Records" box of their 1600grand.

To change your advisor, go to 1600grand and find the 'Academic Records" box.  Click on the "Academic Advising Team" button in that box and follow the instructions that come up.  (Sample 1600grand screen )Your request will be forwarded to your new advising team for approval and then on to the Academic Programs and Advising Office for processing.  IT IS EXPECTED THAT YOU WILL HAVE A CONVERSATION WITH YOUR POTENTIAL NEW ADVISORS BEFORE YOU FILL OUT THE FORM.

Questions should be directed to [email protected], 651-696-6036.
A paper form which can be filled in and emailed or printed is still available at Advisor(s) Selection Form (PDF).