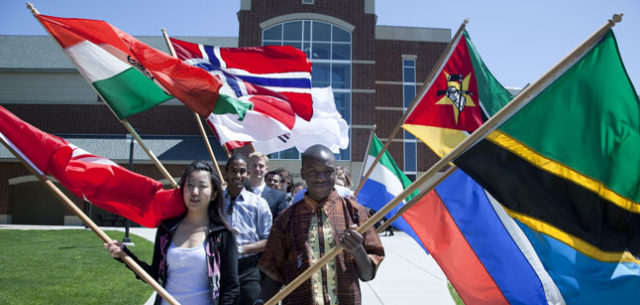 The Honors Program enables qualified seniors to undertake substantial independent work culminating in a project of exceptionally high quality. Departments and programs that have Honors programs are indicated in the college catalog. Detailed information about the expectations of specific departments or programs is available from the chair or director or from the Director of Academic Programs and Advising. The minimum cumulative grade point average established by the college for entrance into the Honors Program is 3.30; however, some departments or programs may require a higher grade point average. Students undertaking research projects with human participants are expected to comply with the guidelines established by Macalester's Institutional Review Board.
Students expecting to apply for acceptance into the Honors Program should consult with their particular department or program early in their junior year as the official application deadlines are normally during the second semester of the student's junior year.
Students pursuing an IDIM should work with their IDIM committee to describe the procedures to be followed as well as the type of project appropriate for Honors designation. This information should be included in the original proposal for the IDIM and will be examined as part of the review of the IDIM proposal.
Students in the Honors Program are invited to occasional special events. Bound copies of the completed Honors projects are added to the library collection, and successful completion of an Honors project is noted on the student's transcript following graduation.
Honors Calendar
UPDATE ON HONORS PROGRAM PROCESS FOR SPRING 2020: 
Deadlines will remain the same.  Honors abstracts should be submitted to
piatz@macalester.edu
as a Word attachment.
Honors defenses will need to be done via Zoom or some other remote technology.  Once the defense is complete, instead of submitting the paper certification form, the chair of the honors committee should email
piatz@macalester.edu
stating the name of the student, when the defense occurred, whether or not the student passed their defense, the names of the committee members and the
exact title
of the student's project.
Instead of submitting a paper copy of their project, students should email
piatz@macalester.edu
a pdf version of their project.  They will also submit an electronic version of their paper to the library digital commons as they have done in previous years.  More instructions on how to do that will be sent out in April.  We will print the projects for binding later on.
Unfortunately, we will not be able to host our celebratory Honors and Awards Lunch on April 29.  We'd still like to recognize the students' accomplishments, so we are thinking about how that could look–an electronic version of the printed booklet containing the honors project abstracts and names of prize winners, etc.
Honors students and their advisors will receive additional information about submitting abstracts, paper formatting, etc. during the last week of March.
Forms