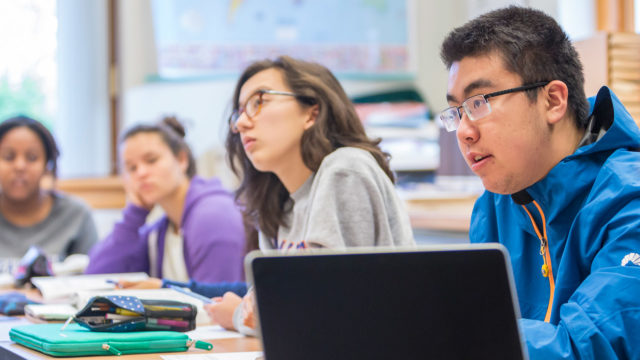 During the fall term of their first year, all Macalester students are required to take four courses, of which one must be a First-Year Course (FYC).  FYCs are small, seminar-style courses designed to ease a student's transition to Macalester.  FYCs pay extra attention to student writing, review academic expectations across disciplines, and explore the meaning of a liberal arts education. A special feature of the FYC is that the professor serves as your academic advisor until you choose a major.
All Macalester Pathways students take the same FYC, Illuminating Our Diverse Intellectual Lives, taught by Brian Lozenski, assistant professor of Educational Studies.
Professor Lozenski's research explores the intersections of critical participatory action research, Africana studies, and cultural relevance in education. Prior to pursuing his PhD, Professor Lozenski taught for more than a decade in Philadelphia, Pa.and St. Paul, Minn. As a teacher, educator, and researcher, he has worked with other educators, parents, schools, and districts to develop perspectives and strategies that aspire toward social justice while illuminating the historical realities that have created current educational disparities.
Professor Lozenski holds deep commitments to a community-engaged research framework where academic researchers follow the lead of community members and organizations to identify prevalent issues that can be addressed through an inquiry-based approach. In this effort he directs a program where high school youth gain college credit by conducting participatory action research through the lens of African knowledge systems. He co-created this partnership between multiple post-secondary institutions in the Twin Cities and a community-based family education center called the Network for the Development of Children of African Descent (NdCAD).
At Macalester, Lozenski teaches courses on race, ethnicity, culture, and education. His scholarship focuses on African American education, and the cultural and political contexts of schooling. He also uses critical participatory action research as a teaching and learning practice, a method students will use in their First-Year Course.
Illuminating Our Diverse Intellectual Lives: Space, Belonging, and Self-Discovery through Action Research
Why do we have to disconnect our thoughts from actions? This course will challenge you to consider how this new environment—Macalester College and its surrounding community—can be a place where change is possible. Change in our ideas. Change in ourselves. Change on our campus. Change in our broader communities. Drawing from philosophical texts, memoirs, films, and our own action-based research, we will explore the social, cultural, political, spiritual, aesthetic, and ideological aspects of thought and social movements in various spaces on and off campus.
The class will use participatory action research (PAR) to identify important issues in our lives and connect those to the diverse intellectual lives of your new home. PAR holds that those most affected by an issue should be the primary researchers and knowledge producers about that issue. You are the experts of your lived experience. Possible research topics could include "finding yourself at Mac," "creating community on and off campus," "grappling with contradictory experiences of leaving home," or something completely different. This class will be hands-on, inquiry- and discussion-based, and grounded in various perspectives of social transformation and theories of change. Lace up your boots, because we will move beyond the four walls of the classroom!
During Fall Term 2017, class meets Tuesdays and Thursdays from 1:20 to 2:50 p.m. in Neill Hall 215.