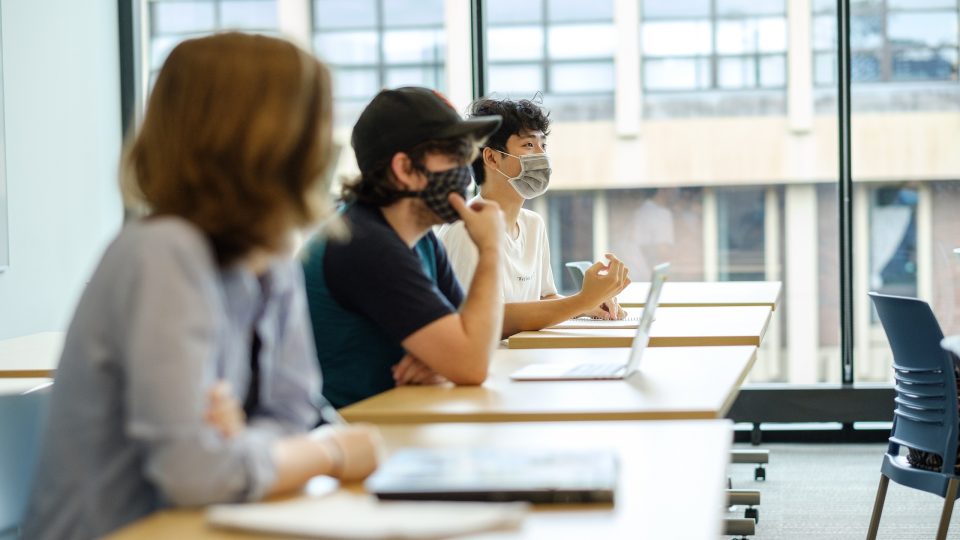 Among your academic milestones at Macalester, stands the First-Year Course ready to lead the way. More than a class, here you'll connect to your academic advisor and join new classmates as you begin your liberal arts education.
See an FYC in action
ROCKET SCIENCE
What is a First-Year Course?
During your first semester all first-year students take one course designated as a First-Year Course (FYC). Each course is limited to 16 incoming students and is taught in seminar style, inviting ongoing participation and rich discussion.
Most First-Year Courses pay particular attention to writing and library research to introduce students to these skills and offer guidance around the academic expectations at Macalester. Many courses also utilize student writing preceptors to provide additional writing support and peer mentoring. Often these courses are regular department offerings that have been tailored to the needs of incoming students.
YOUR ACADEMIC ADVISORS
The professor for your First-Year Course is also your advisor when you begin college at Macalester. This means new students have immediate access to their advisor for academic questions and general advice about learning at Mac.
Starting in the summer before college, your professor will contact you and help you throughout your first semester, which includes helping you select courses for the spring semester. After the first semester, students may keep their advisor and choose other academic advisors that align with their academic interests.
Residential First-Year Courses
Some First-Year Courses are designated as residential courses. Students who enroll in one of these courses live near one another in the same residence hall, usually on the same floor. This facilitates discussion and group work outside of the classroom.
More First-Year Course Examples
Seeing Performance in the Twin Cities: Attend live dance and theater performances in the exciting arts scene of the Twin Cities at professional venues such as the Walker Arts Center, the Guthrie, Penumbra Theatre, Mixed Blood, Northrop Auditorium, and Cowles Center.
Food in French and Francophone Cultures: The Local and the Global France is famous for its food and cuisine. What makes it unique? How does French food translate French culture? What changes occurred throughout history? From medieval recipes to the first public restaurants, from the introduction of the first tomato dish to the new trends in branding water, chocolate, tea, vanilla or coffee, we will explore different topics related to food in France and the Francophone world.
Principles of Economics: Economics can help us understand income inequality within and across countries, the quality of the environment, unemployment, poverty, crime, health care, financial crises, technological change, inflation and many more issues. Learn the basic tools that economists use to explore these topics and will cover fundamental economic concepts like scarcity, supply and demand, costs and benefits, trade-offs, and incentives.
Soultracking Brazil: Shuffling Through the Sounds of a Musical Nation: What binds together a continental-sized country, stretching across both hemispheres and four time zones, made up by a wide array of landscapes and climates, encompassing half of the population of South America and with a society that is the quintessence of racial diversity? Study how the idea of Brazil as a nation rests upon the ongoing creation of a popular soundtrack that brings the country's different cultural regions closer through a melody of sounds, rhythms, and musical genres.
Novel: In the past fifty years, science fiction has emerged as the primary cultural form for thinking about human extinction: climate catastrophe and natural disasters, plagues that empty continents, and species suicide through war. In this course we will examine works of science fiction as complex aesthetic achievements, as philosophical inquiries into the nature of being and time, and as theoretical examinations of the nature of human cognition.
First-Year Course Offerings
First-Year Courses can be found in the Fall class schedule by subject and are designated as First-Year Course Only. New Macalester students will receive specific details about registration in the summer prior to their starting year. If you're curious about class offerings, feel free to look at the prior Fall listings.