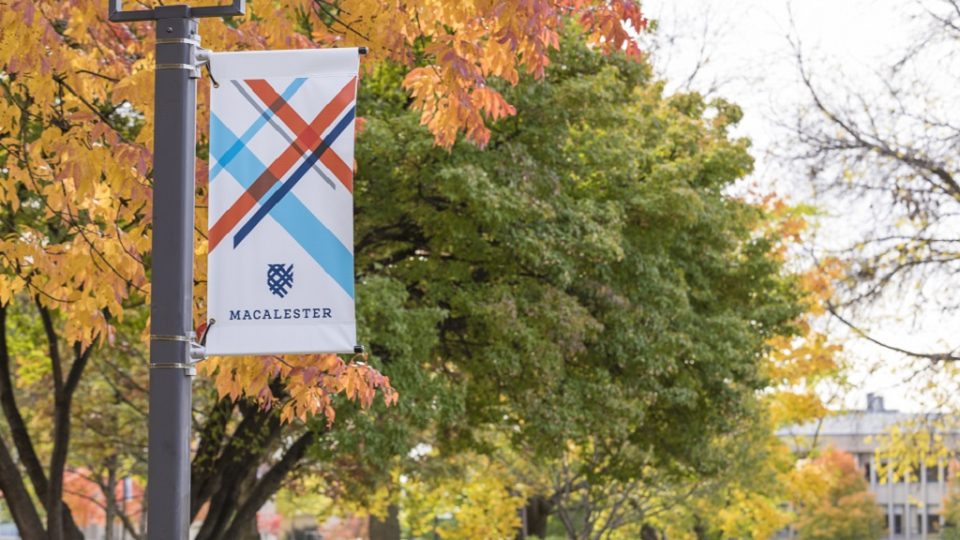 Join us at Macalester for an entire day of exploring campus and meeting the Mac community! As you contemplate colleges and research your options, Macalester invites you to connect with our current students, professors, and staff at our college in the city at this special on-campus event.
October 10, 2022 & October 28, 2022
Reserve your spot at this day-long experience for high school students and families to meet our community through class visits, tours, panels, and presentations. Event runs from 8:30am – 4:30pm.
MEET MACALESTER VISIT DAY AGENDA
You are invited to begin and end your day at our group events. For the remainder of your time, you'll choose from our list of options and fill your day with activities that interest you most.
Schedule represents October 10 agenda. Activity times may shift slightly for October 28 event.
8:30 a.m. – Check-in and Schedule Selection
Ruth Stricker Dayton .Campus Center – 2nd Floor Atrium
Plan your day, collect tickets for tours and class visits, grab coffee and a snack, and chat with Admissions staff.
9:15 a.m. – Welcome Session
John B. Davis Lecture Hall, Campus Center lower level
9:40-10:40 a.m. – Choice of "Introduction to Macalester" Session, Campus Tours, Class Visits or Department Visits
10:50-11:50 a.m. – Choice of "Global Citizenship at Mac" Session, Campus Tours, Class Visits, or Department Visits
12:00-1:00 p.m. – Lunch
Kagin Ballroom
Chat with a current Macalester student while enjoying a boxed lunch from Bon Appetit, our campus food service provider. Please contact Admissions if you need to update the dietary considerations associated with your registration.
1:10-2:10 p.m. – Choice of "Admissions & Financial Aid Deep Dive" Session, Affinity Mixer*, Campus Tours, Class Visits, Panels, or Department Visits
2:20-3:20 p.m. – Choice of "Academics at Mac" Session, Campus Tours, Class Visits, or Department Visits
3:30-4:30 p.m. – Send Off Mixer
Weyerhaeuser Boardroom
Grab a snack, ask lingering questions, and chat with current students and Admissions staff
Day-Long Opportunities –Department Visits
Office hours vary by department; see the day's program for timing and locations
Drop in to meet with students, staff, and faculty working in Macalester's academic departments, as well as several offices serving student needs such as Career Exploration, Disability Services, Financial Aid, and the Office of Student Leadership & Engagement.
*The Affinity Mixer is is a gathering to get to know Mac students who identify as Black, Indigenous and/or People of Color, first generation to college, and LGBTQIA+.
FOR YOUR VISIT
Please park in the South Parking Lot at 165 Snelling Ave, south of the Leonard Center off of Snelling Avenue. Street parking is also available in the surrounding neighborhood. Visit our Maps and Directions page for general directions and printable maps.
View hotels and other lodging options around campus and our surrounding downtowns.
Learns more about our campus and surrounding cities, including museums, theaters, and restaurants.
Questions about Macalester or this event? Drop us a line.