Enjoy the weather at Macalester
One of the favorite questions we are asked throughout the year is, "How is the weather at Mac?" Whether you have lived here your whole life or have grown up in a very warm climate, the change of our seasons is part of the wonder and lore of Minnesota. Here are some favorite ways to take advantage of our varied and distinct seasons.
FALL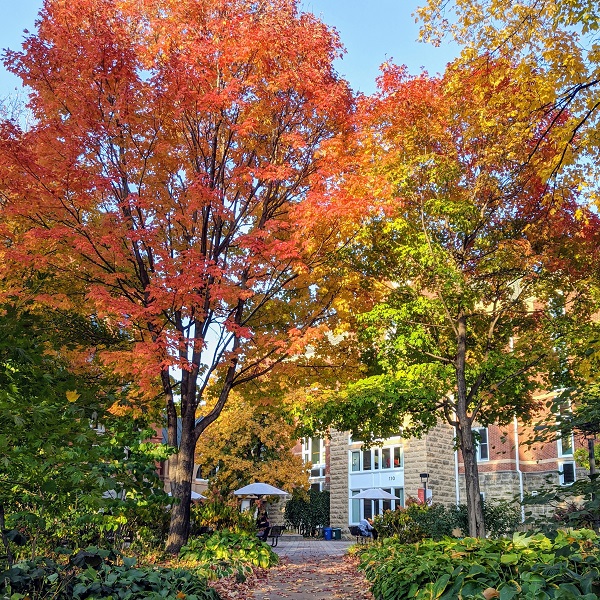 Average High/Low
Sept: 72°F/52°F (22°C/11°C)
Oct: 59°F/39°F (15°C/4°C)
Nov: 41°F/26°F (5°C/-3°C)
Fall is BEAUTIFUL at Mac and the leaves on and around campus glow with vibrant shades of gold. orange, and red. As you start another academic year, you'll feel the energy and possibility of this ever-changing season.
Check out a bike from the library and take a ride to the river
Tie up a hammock on the North Lawn or Marvin Plaza for a power nap
Grab your favorite warm beverage and listen to live music at Dunn Bros. Coffee
Find a frisbee and practice your forehand and backhand throws on the Great Lawn
Cheer on your Mac Scots at Macalester Stadium
---
WINTER
Average High/Low
Dec: 27°F/12°F (-3°C/-11°C)
Jan: 23°F/6°F (-5°C/-14°C)
February: 29°F/11°F (-2°C/-12°C)
There's no need to fear winter! If anyone has left you feeling it's a polar vortex all year long, they haven't lived here. We put on our fuzzy hats and gloves and find a lot of ways to enjoy the crisp air of this snowy season.
Plan your strategy and join the long-standing tradition of Pushball
Head over to a local park to go cross country skiing (skis can be rented)
Build snow forts on the lawn and have a snowball fight with your friends
Take part in the Saint Paul Winter Carnival to see crafted Ice Palaces, go ice skating, or ride down a giant snow slide
Go to Art Shanty Projects, an outdoor art festival held on a frozen lake!
---
SPRING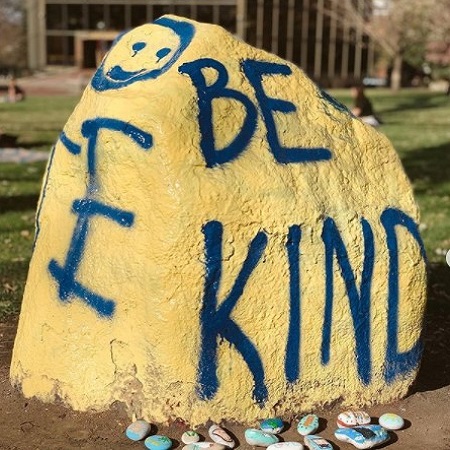 Average High/Low
Mar: 41°F/23°F (5°C/-5°C)
Apr: 58°F/36°F (14°C/2°C)
May: 70°F/48°F (21°C/9°C)
When spring starts to appear, tulips and apple blossoms poke through and call on everyone to come out and play. Suddenly, after the winter, 45 degrees seems like beach weather. Join your friends in front of the Campus Center and make some plans to celebrate this season of renewal.
Visit the Como Park Botanical Gardens to see the flowers blooming
Head to Minnehaha Falls to see the recently melted waterfalls. Hiking and walking trails available too!
Gather supplies and a few friends to paint The Rock with a fresh message
Celebrate commencement with your fellow Mac students who are graduating after four amazing years
See what Macalester's Program Board has planned for Springfest
---
SUMMER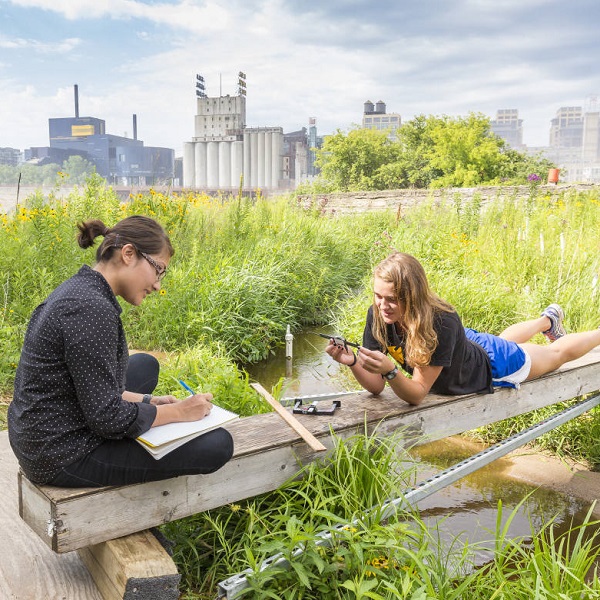 Average High/Low
Jun: 78°F/57°F (26°C/14°C)
Jul: 83°F/63°F (28°C/17°C)
Aug: 81°F/61°F (27°C/16°C)
We hope you're sticking around for summer. This season is made for getting up early and staying out late. There's so much to see and do, it's hard to know where to start. Soak in every minute of this sunny season.
Take a walk through the Walker Art Center's outdoor sculpture park
Go to the Minnesota State Fair for food (including cookies in a bucket), concerts, or just the people watching
Enjoy real-world learning or research at your summer internship
Head down Snelling Avenue to Nelson's Ice Cream for one of their dozens of flavors
Watch for all the outdoor concerts around the Twin Cities – many are free!
Students from across the globe have moved to Minnesota and found their second home at Mac. Maybe you'll have favorite activities that you'll continue or maybe you'll discover new adventures all year long. Let's see where the season takes you!
---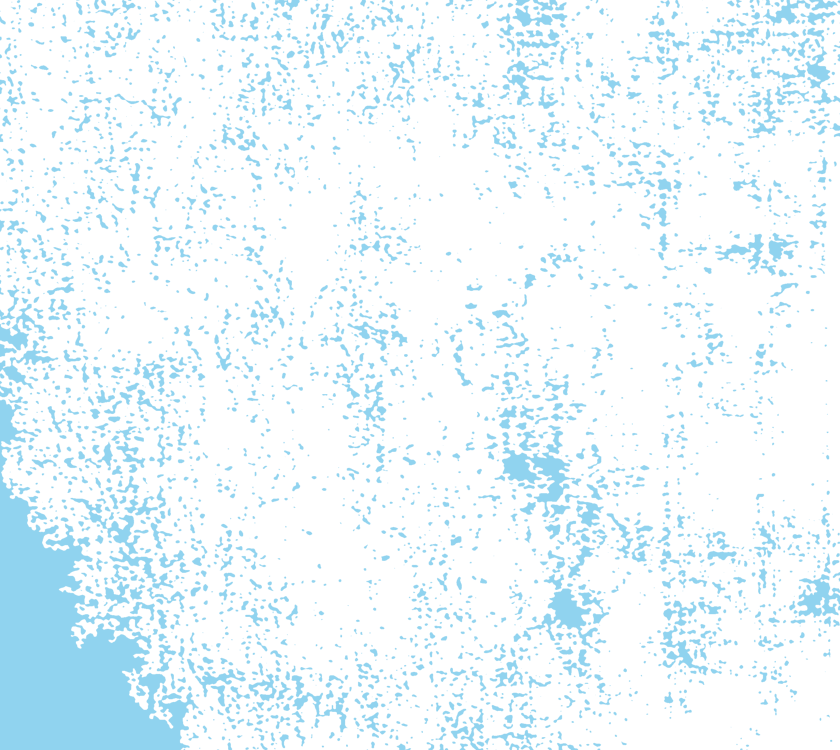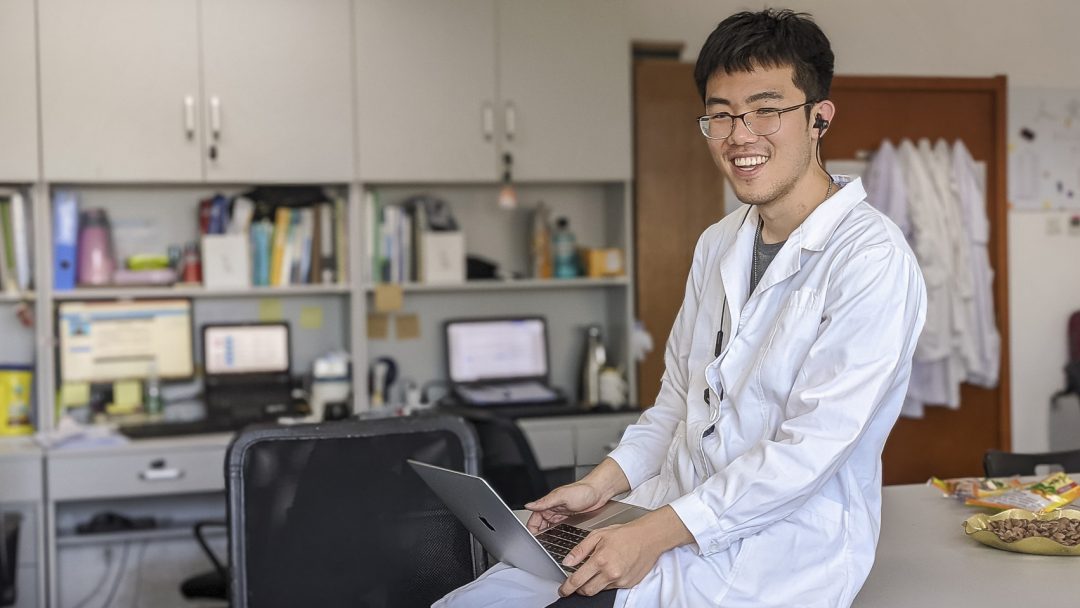 Happening at Mac
Stay in the loop with all the latest stories about current students, alum, and events at Macalester.