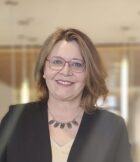 Edith M. Kelso Associate Professor, Art History
Expert in modern and contemporary art, with a focus on feminist art and art in former Eastern Europe.
Fine Arts Commons 207
651-696-6657
[email protected]

Joanna Inglot is an art historian and curator specializing in modern and contemporary art. She has received numerous national grants and awards, including Fulbright Fellowship, American Council of Learned Societies, International Exchanges Commission Grant (IREX), and the National Endowment of the Humanities. She writes and lectures extensively on the subject of contemporary art in Europe, former Eastern Europe and the United States. Her book The Figurative Sculpture of Magdalena Abakanowicz: Bodies, Environments, and Myths, (University of California Press, 2004) examines the work of this pioneering fiber artist and sculptor in the context of a dynamic cultural and sociopolitical scene that developed under Communism in Poland and in the international context. Her second book, WARM: Feminist Art Movement in Minnesota, 1970s-1990s (University of Minnesota Press, 2007), which appeared in conjunction with an exhibit on the subject that she curated at the Weisman Art Museum in Minneapolis, analyzes the Women's Art Registry of Minnesota (WARM) as a leading feminist art collective in the United States and is the first scholarly attempt to situate WARM in a larger feminist context. She is currently organizing a scholarly international symposium on Magdalena Abakanowicz at Tate Modern in London, UK and writing a book on Feminism on Trial: Gender, Art, and Politics in Post-Communist Eastern Europe.
Some of the most recent publications include:
"Who is Afraid of Natalia LL? The Dangers and Pleasures of Feminist Art in Communist Poland," book chapter in Iconic Works of Art by Feminists and Gender Activists: Mistress-Pieces (New York: Routledge Press, 2021), pp. 193-210.
"The Alchemy of the Word: Harriet Bart's Abracadabra Universe," book chapter in Harriet Bart: Abracadabra and Other Forms of Protection (Minneapolis: University of Minnesota Press, 2020), pp. 67-73.
"Cosmopolitan Imagination: Myth, History, and Memory in Vesna Kittelson's Paintings," book chapter in Vesna Kittleson: Synthesis (Minneapolis: Afton Press, 2020), pp. 71-81.
"Feminism on Trial: Gender, Art, and Politics in Post-Communist Poland," book chapter published in CICHA 34th World Congress of Art History Anthology (3 volumes), ed. Shao Dazhen (Shanghai: The Commercial Press, 2019), Vol 1., pp.1123-1130.
"Transcultural Dialogues in the Iranian Diaspora: Shirin Neshat and Parastou Forouhar," article, Polish Academy of Arts and Science Bulletin, December 2016, pp. 75-85.
Inglot teaches on modern and contemporary art. Her course offerings include:
Introduction to Art History II: From Renaissance to Modern
Modern Art
Contemporary Art & Theory
Globalization & Contemporary Art
History of Body and Performance Art
Gender, Sexualities, and Feminist Visual Culture
Race, Ethnicity, Class and Gender in American Art
Transnational Surrealism: Art, Photography, and Film
Pop Art International
Art History Methodologies