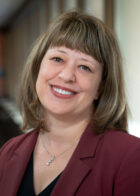 Hello friends! I'm Jen Guyer-Wood and use She/Her pronouns. I started at Macalester in March of 2023 and am the Executive Director of Career Exploration.
I paid my way through college with loans and by working in the University Post Office at Minnesota State University-Mankato. This meant that I was unable to get as involved on campus or to study abroad, which is one reason why I love working in Student Affairs. Working on campus as a student also led me to this field in another way. I was grateful the experience but also for all of the staff and faculty I engaged with while delivering mail. The relationships I built during that time made me realize that I wanted to spend my career supporting students in a college setting.
My first job was at a pea-packing plant (Birdseye). I didn't last long and left to work at a mall job. In addition to working in career development, advising, and student affairs, I served as Director of Alumni Relations and Special Events at my alma mater, Minnesota State University- Mankato. Most recently, I was the director of Career and Student Success at the Humphrey School of Public Affairs at the University of Minnesota. My biggest work adventure was moving and working to network and find a job in Louisville, Kentucky after my spouse got a job working at the Muhammad Ali Center. As a result of this successful job search, which included over 40 informational interviews and countless applications, I love working with students and alumni who are planning to move to another place for employment.
My spouse, Mike, and I have a large English Mastiff and two cats that keep us busy. I love walking, running, biking, yoga and cooking and eating vegan food. If I'm on vacation, I'm either taking a long walk with plans to cuddle pets later, or am traveling to a concert with Mike.