Science and Lab Research Career Community
Maybe you…
Conduct research somewhere – whether in a lab, library, field site, clinic, school, or focus group.

Investigate a topic, a question of importance to you.

Collect information and samples through diverse methods and sources.

Analyze this info data looking for patterns, trends and meaning.

Summarize the importance and implications of research to diverse constituents including fellow researchers, funding organizations, public and private organizations.

Offer specific analysis, techniques and use of instruments particular to a topic/field.

Monitor and evaluate efficacy and compliance of programs.

Advocate for best practices to the general public, governments, and practitioner groups.
Early Destinations
| | | |
| --- | --- | --- |
| Ecolab | Chemical Technician | St. Paul, MN |
| Institute of Health Metrics & Evaluation | Data Analyst | Seattle, WA |
| Mayo Clinic | Clinical Lab Technician | Rochester, MN |
| Minnesota Geological Survey | Field Technician | St. Paul, MN |
| NASA DEVELOP | Program Member | Huntsville, AL |
| National Institute of Health | Research Assistant | Washington, D.C. |
| U.S. Food & Drug Administration (FDA) | ORISE Fellow | Bryn Mawr, PA |
| Utah Division of Water Quality | Water Quality Technician | Salt Lake City, UT |
Key Resources
While these are local resources, use these as examples to find their equivalent in the city/region for your search.
Macalester Olin-Rice Hub Resources for Research
National Science Foundation (Research Experience for Undergrads) REU Sites
SciTechsperience – Connecting college students to small-mid size organizations internships for college students in STEM.
Minnesota Private Colleges Job & Internship Fair – Many fortune 500 organizations based in MN hire through this fair.
Alumni Profiles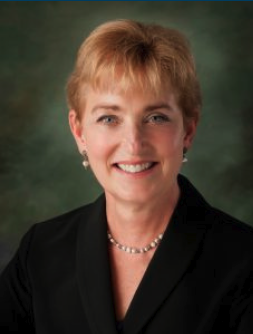 Diane Saber '78 –
Owner and President of REEthink, Inc.
Why did you choose Macalester?
I received a brochure for Interim (January month study) programs from Macalester and was so excited that I could potentially take classes in biology in Hawaii, or learn desert geology in Arizona and Mexico, or study ballet in London, or learn about WWII from the German perspective at a sister school… I was sold. At the time, study abroad was still quite unusual and I was game to the experience. I did all of those Interims, by the way.
Before coming to Mac, what was your dream job and intended major?
I always knew I would have a career in microbiology somehow.
What was your first job post-Macalester? How did you find your first job?
After an engagement and plans to be a ski bum for a year in Aspen fell apart, I came home to Chicago and my father suggested that taking a job in sales would "give me a world of experience." He was very correct! I was hired by Union 76 (an oil and gas company based in California) and I began selling chemicals in Newark, NJ, just after the riots destroyed the city. I was one of 4 women/350 men in this very misogynistic, male-dominated profession. Not only was I in bodily danger nearly every day, I was the object of ridicule, daily harassment, and intimidation. However, I earned an MBA in Marketing from Fairleigh Dickinson University (Union paid full tuition) and found what I wanted to focus on in graduate school.
What do you do now? Please describe your day-to-day activities and responsibilities.
I am the owner and President of REEthink, Inc., a company devoted to introducing renewable natural gas to the natural gas pipeline network. I am a specialist in RNG gas quality specifications and I am hired by natural gas companies across the world to help them get more RNG to their network. It sounds very simple, but there are a lot of aspects to this and I am considered an international expert in this area. I basically do a combination of research and project management, but it has been a long path to get to this position.
What happened between your first job and your current job? Graduate school? Different jobs in between?
A Ph.D. in microbiology, with an emphasis in microbial ecology and specialty in hazardous waste degradation, from the University of Minnesota. I did my post-doc at Yale and I spent a year in London working for a start-up company. When I came back to the US, I was immediately hired by a world-class engineering and consulting company (EBASCO) and became a project manager for some of our country's largest Superfund sites as a contractor for the EPA. I then went to Fluor Daniel, where I expanded my project base to a wide variety of projects which spanned many disciplines. I traveled extensively and learned project management at its best. I then became the director of a research laboratory (Gas Technology Institute, Des Plaines, IL), where my team engaged in applied research for the natural gas industry in the area of environmental and forensic chemistry. One large, significant project which focused on RNG quality set me into another orbit with respect to my career. I now live in that space and love it.
How did your major at Mac help with choosing a career path?
It didn't. It gave me tools. I had to use my own intuition, work and resources to make the path that I desired. Mac, or any college, should give you the tools — but you make your own way.
What is the most memorable lesson you learned at Mac?
Learn to be tough. Learn to be resilient. Learn to believe in yourself. Learn to make your own path towards what YOU want.
Who at Macalester had the most impact on your career? In what ways?
Women did not have mentors in science when I was at Mac… there were no women in any of the STEM majors as professors. However, my mentor was James Smail, who taught me that you could thrive with a career using
both sides of your brain. Jim was both a scientist AND an artist. This really resonated with me and I saw hope, as I was neither strictly science nor art. Not many clear or easy options back then, so you had to make your own
path as a woman in science.
Are you open to students and other alums contacting you? What is the best way for them to get in touch?
YES, for sure – [email protected].