We are living in unprecedented times. A world-wide public health pandemic and a spotlight on the deep rooted systemic racism since the murder of George Floyd by police in Minneapolis has caused pain and uncertainty, yet also opened up the possibility for real transformative social change. The need for active engagement in our democratic public life is critical now more than ever.
Mobilize Mac Events: Now, During, After the Election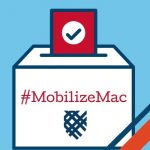 Mobilize Mac is the umbrella framing that the Civic Engagement Center will be using for all democracy and elections-related work throughout the year. Mobilize Mac encompasses all of the elections-related work happening on and off campus and offers opportunities for engagement regardless of voting eligibility, party affiliation, or voting status. Everyone is welcome to engage with the issues that matter most to them. Join the conversation online with #MobilizeMac and #HeyMac.