Mobilize Mac is the umbrella framing that the Civic Engagement Center will be using for all democracy and elections-related work throughout the next year. We work with many partners across campus to plan events from Day at the Capital to voter registration and Election Day programming. Mobilize Mac encompasses all of this work, and offers opportunities for engagement regardless of voting eligibility, party affiliation, or voting status. Everyone is welcome to engage with the issues that matter most to them.
Key Dates in 2020
There are many opportunities throughout 2020 for democratic engagement, regardless of voting eligibility. The below dates affect Macalester students on both the local and national level.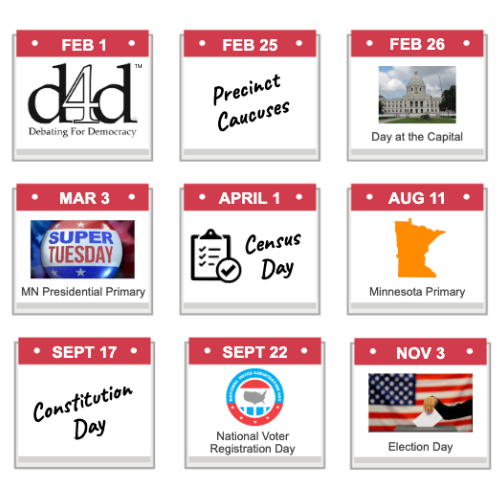 More about these initiatives
Census: Per the Census Bureau's residence criteria, college students living away from home at school will be counted at school, even if they are temporarily elsewhere due to the COVID-19 pandemic. If you were living on-campus prior to the COVID-19 response, you will be included in Macalester's group reporting of residence halls.
If you were living off-campus, the Census Bureau requests that you use your at-school off-campus address even if you have returned to a permanent residence/home away from Macalester due to COVID-19. For those who reside off campus, the form is designed to be filled out at a household level–together with those who you live with. Please designate one person to be the "head of household" and coordinate with that individual to complete the census questionnaire. US Census mailers should have arrived at all residences. While these have a code on them that helps with online responses, people can also fill out the census without this code.
Finally, students who have returned from study away by April 1 as well as those who did not go abroad due to COVID-19 should be counted at the address where they reside on April 1.
It is important to remember that the US Census counts everyone: international students, DACA students, permanent residents, people who are undocumented, etc. While census data is confidential for 72 years, we know that there are concerns about data confidentiality. There are only a handful of demographic questions about each individual, and respondents can skip some questions that they prefer not to answer and still be "counted." It is also possible to be counted using a nearby public address and pseudonym if you are concerned about data confidentiality.
Watch "College Student Outreach Video" on Vimeo: https://vimeo.com/399176172?ref=em-share
Democracy in Action: This initiative is to support students during the Fall 2020 semester to be engaged in some way with the election and get academic credit for that experience. Find out more here.
Voter Registration/Education/Mobilization  
If you will be an eligible voter for the Minnesota Primary on August 11 or the General Election November 3, you can register online up until three weeks before the election day.  More info at mnvotes.org.  Email djohnso8@macalester.edu with any questions.