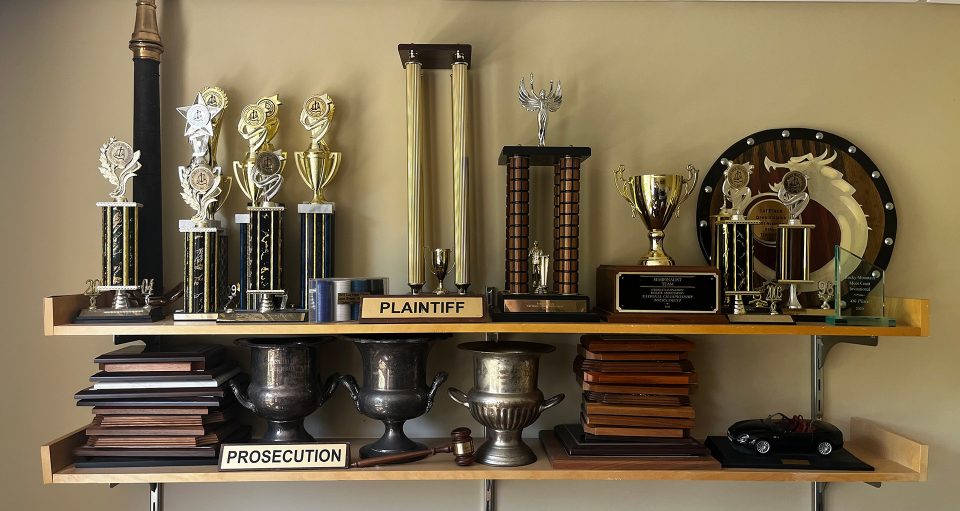 Macalester College has a long and storied tradition in intercollegiate forensics. Our first intercollegiate debate took place on April 7, 1911. While our story began with a 2-1 loss to St. Olaf College, it did not take Macalester students very long to develop a reputation as one of the best forensics programs around. Over the course of the last 111 years, Macalester students have won national titles in events ranging from extemporaneous speaking and oratory to policy debate and mock trial. Most recently, Macalester College's Ethics Bowl team won the Association for Practical and Professional Ethics's Intercollegiate Ethics Bowl® National Championship in February 2021.
Macalester's forensics program provides a wide variety of opportunities for students to improve their skills in the core liberal arts disciplines of rhetoric, logic, and argumentation. This year, Macalester students are competing in four different forensics team events: mock trial, ethics bowl, policy debate, and moot court. Macalester's mock trial program competes in tournaments using the case materials provided by the American Mock Trial Association (AMTA). The Ethics/Bioethics bowl team participates in the Ethics Bowl, a competition sponsored by the Association for Professional and Practical Ethics and takes part in the national Bioethics Bowl competition. The policy debate team competes on the NDT/CEDA policy debate circuit, and the moot court team participates in American Moot Court Association (AMCA) competitions. The forensics program also serves as the home for Macalester's internationally-recognized Model United Nations program.
These "varsity sports of the mind" are both challenging and enjoyable. Forensics participation is open to all interested students. While we encourage those with considerable high school experience to join our ranks, we are also open to those who have never competed before.
If you have any questions about the program, or are interested in joining, please contact our Director of Forensics Beau Larsen at [email protected]. We are also working on an up-to-date alumni roster and invite our alumni to share any information, stories or results from prior seasons.