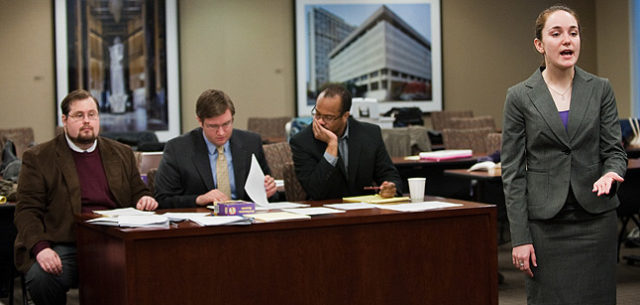 Audience Debate
As we approach the 100thanniversary of Macalester's entry into the world of intercollegiate debate, we will be doing some of the same sort of debating that Macalester students did back then. Before the invention of the debate tournament, schools entered into contracts for public debates against neighboring schools as well as inviting in opponents from more distant parts of the country. Before the forward pass was legalized, such debates were more popular than college football. While we can't completely turn back the clock, we will be arranging public debates on a variety of topics with other schools in the area. Following tradition, each debate will involve an affirmative team that will be debating on our campus and a negative team that will be venturing to the opposition's lair. As this event develops, we hope to involve both Macalester faculty and Macalester alumni as part of these public audience debate teams. If there are alumni out there who would like to volunteer to win another round for dear old Macalester, feel free to suggest a topic that intrigues you.
Parliamentary Debate
The Parliamentary League of the Upper Midwest hosts a series of inexpensive but high-quality one-day intercollegiate debate tournaments for college and universities which attracts schools from Minnesota, Wisconsin, Iowa, and South Dakota. In addition to the PLUM events, we will also be traveling to some weekend tournaments in our region.
Most debate formats give the debaters considerable warning about the proposition that they will be debating and debaters feversishly begin researching the topic. Parliamentary debate gives debaters a scant 15 minutes of warning before the start of the round. Rather than rely on heavy files that are carried from room to room or a huge collection of information stored on a laptop, debaters in the Parliamentary League of the Upper Midwest are limited to the knowledge that is stored inside of their cranium. These sort of debates place a premium on having a breadth of knowledge regarding enduring questions of philosophy and political theory as well as knowing a considerable amount about current events. Without resorting to prepared files, debaters must quickly analyze the topic, discover the available means of persuasion and craft speeches that will appeal to a diverse judging pool that may range from an experienced debate coaches and practicing attorneys to college professors and ordained ministers with more experience in the pulpit than with a debate ballot. Those who are most successful in the PLUM are those who work hard at what Professor Donald C. Bryant has described as "the art of adapting ideas to people and people to ideas."
A few years ago, a former parli' debater sent me the following e-mail. The author is Sarah Norman '00, an actor and director in London.
Anyway, I'm emailing because I was just thinking about Macalester the other day, and my education there, and I wanted to let you know that I think that parliamentary debate was one of the best things I did with my time at Macalester. It was one of the most genuinely educational aspects of my four years. This is not so much in reference to the general knowledge that I acquired in debate but rather the improvement in my ability to listen carefully to other peoples' ideas, and then to formulate and express my own. I guess basically I think parliamentary debate did some fundamental work for me in terms of simply being able to think clearly and carefully, which is a skill that I don't think is at all common. In a certain sense, I can't think of any strand of classes that was so fundamentally useful.
Students who excel at the local level will have additional opportunities to compete at national and international tournaments.
Ethics Bowl
Our newest event, the Ethics Bowl competition, is an event that combines elements of debate, discussion, and impromptu speaking. The sponsors of the event, the Association for Professional and Practical Ethics, provide this summary of a contest that has both competitive and collaborative elements:
"The Intercollegiate Ethics Bowl (IEB) is a team competition that combines the excitement and fun of a competitive tournament with an innovative approach to education in practical and professional ethics for undergraduate students. Recognized widely by educators, the IEB has received special commendation for excellence and innovation from the American Philosophical Association, and received the 2006 American Philosophical Association/Philosophy Documentation Center's 2006 prize for Excellence and Innovation in Philosophy Programs. The format, rules, and procedures of the IEB all have been developed to model widely acknowledged best methods of reasoning in practical and professional ethics.
"In the IEB, each team receives a set of cases which raise issues in practical and professional ethics in advance of the competition and prepare an analysis of each case. At the competition, a moderator poses questions, based on a case taken from that set, to teams of three to five students. Questions may concern ethical problems on wide ranging topics, such as the classroom (e.g. cheating or plagiarism), personal relationships (e.g. dating or friendship), professional ethics (e.g. engineering, law, medicine), or social and political ethics (e.g. free speech, gun control, etc.) A panel of judges may probe the teams for further justifications and evaluates answers. Rating criteria are intelligibility, focus on ethically relevant considerations, avoidance of ethical irrelevance, and deliberative thoughtfulness."
Rare among forensics events, the IEB tournament schedule consists of two and only two tournaments. Regional qualifying tournaments are held in November and the top 32 teams in the nation advance to the national championship in March. Since there are no tournaments prior to the regional tournament, students on the Ethics Bowl team will be doing a great many practice rounds on campus to get ready for the qualifying tournament.
More information on this competition may be found at:
appe.indiana.edu/ethics-bowl/ethics-bowl/
Moot Court
Undergraduate moot court teams consist of two oral advocates who argue a simulated case before the Supreme Court. Each team is provided 20 minutes to argue their side of case and each team must be prepared to argue both sides of the case. Unlike most speaking competitions, the judges do not sit silently while the student speaks. The judges are free to interrupt the speaker with questions. American Collegiate Moot Court Association (ACMA) students have engaged in oral argument on issues such as same-sex marriage, national health care, privacy under the 4th Amendment, life sentences given to minors who are not guilty of murder or attempted murder, freedom of religion, a federal ban on firearms on school grounds, and warrantless domestic wiretapping of suspected terrorists, the extent of presidential power. Cases are written by the ACMA and the case problem is released on the ACMA website by May 1 of each year. The case (known as the "record") includes an appellate majority opinion and a dissent. The "library" is a closed one. Typically, the record includes about twenty opinions that students can rely upon for their arguments. Like Ethics Bowl, Moot Court has a very limited tournament schedule. The regional qualifying tournament is held in November and the national championship is held in January.
To learn more about moot court competition, you can visit the ACMA web-site:
Mock Trial
Mock trial is a combination of debate, theater and a real-life learning experience in small group communication. Collegiate mock trial teams consist of 6-10 members and Macalester typically fields at least three teams. While some members of the program aspire to law school, the full range of majors and professional interests are represented for the skills that are taught by mock trial are useful in any career.
While high school mock trial typically involves only a couple of tournaments, the intercollegiate tournament season stretches from October until April. Tournaments are typically four-round events and each team must be prepared to argue both sides of the case. In any given round, three of the students serve as attorneys and three serve as witnesses. The attorneys deliver opening statements, direct and cross examine witnesses, argue the admissibility of evidence, and deliver closing arguments. The witnesses are charged with breathing life into the affidavits that are provided with the case materials and creating interesting and credible characters. In mock trial, the whole is nearly always greater than the sum of its parts. Great teams are skilled at telling their client's story in a dramatic and persuasive fashion that involves mastering the basic elements of drama. Over the course of season that stretches across both semesters, students also have ample opportunities to explore the fine art of effectively managing a small group charged with a difficult task.
For more information about intercollegiate mock trial, you might look at the web-site of the American Mock Trial Association:
Or check out Mac Mock Trial's web-page