Alcohol, Cannabis & Other Drugs
While many Mac students choose to abstain from substance use, the reality is that college is a time when some students explore alcohol, cannabis, tobacco, and other drugs. To ensure a healthy and safe Mac community, our public health approach encourages you to examine risk reduction strategies in a judgement-free environment. The educational programs and resources are intended to empower students to reduce risky behaviors and potential harmful consequences for those that do choose to use these substances.
At the Hamre Center, we offer sessions for students to discuss their substance use to support these students. These are evidence-based sessions to help students consider their substance use, how this aligns or does not align with their goals, and discuss strategies they can implement to help support them in their goals moving forward.
Students can schedule an appointment at this booking link.You're able to select what you would like to talk about (alcohol, cannabis, or another substance). All meetings are currently being conducted over Zoom. Please contact Cassandra Worner through May 19th at [email protected] with questions.
COVID-19 has placed a burden on those seeking help or treatment for their substance use/misuse. A list of recovery supports and resources can be found at Support for Addiction Recovery during COVID-19.
Self-Assessment Tools
Are you interested in exploring your personal use of alcohol in a non-judgmental, anonymous way? Check out 36o Proof for personalized feedback, recommendations to reduce your own risk, and a list of resources.
Opioid and Naloxone Information
How Opioids and Naloxone Work
In this video, Allison Leopold, '20 demonstrates how to respond to an opioid overdose, explaining signs and symptoms and demonstrating how to use naloxone.
Data: Get the Mac Facts
Students feel that drinking (and high-risk drinking ) is less acceptable than peers may think.
93% of Macalester first-year students report they are "comfortable" or "very comfortable" showing up to a party and choosing not to drink alcohol.
93% of Macalester first-year students report they find it "unacceptable" or "very unacceptable" to encourage another person to drink alcohol.
85% of Macalester first-year students report they are "comfortable" or "very comfortable" interrupting when someone is being encouraged to over consume alcohol by another person.
68% of Macalester first-year students report alcohol is not at all important to their social life.
83% of Macalester first-year students report cannabis is not at all important to their social life.
Results from the Alcohol.Edu module, n=237, 2020.
Science Says: Your Mood & Substances
Dr. Rich Levine talks about what happens in your brain, chemically, when you feel depressed or anxious. He explores how medicines, drugs, and alcohol may impact this.
First-Year Alcohol and Other Drugs Social Norms
Each summer before arriving on campus, incoming first-year students complete the AlcoholEdu for College online course. This course empowers students to make thoughtful decisions and surveys incoming Mac students about their habits and values around alcohol and other drugs. The data is anonymous and reflects the first-year class as a whole.
This campaign hopes to clear up misconceptions that first-years students may have about the Mac culture.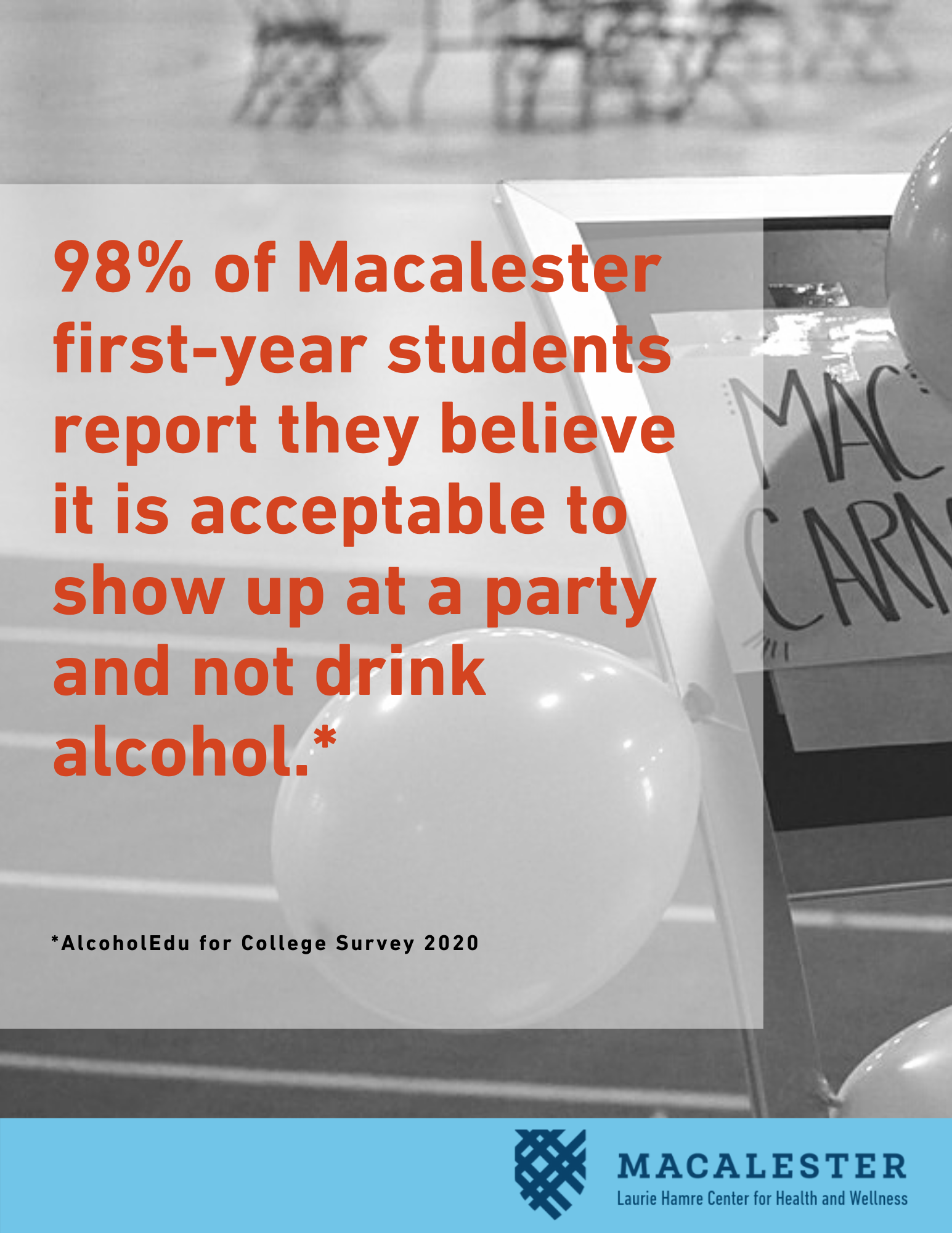 Local Support Groups
Tobacco-Free at Mac
Macalester is a tobacco-free campus. This includes the use of electronic-cigarettes and any other smoking products. Visit Tobacco Free at Mac to access resources to help you quit, learn more about tobacco and vaping, and read Macalester's tobacco-free policies.
Interested in quitting: If you are a Minnesota resident, visit Quit Partner for free coaching, email and text support, and quit medication delivered by mail.
E-cigs and the Environment
The increasing use of e-cigarettes and vaping is both a public health concern and an environmental concern. E-cigs (vapes or Juul) contain lithium-ion batteries and heavy metals that require harmful mining and manufacturing practices. Tragically, they contribute to the estimated 99 billion pounds of hazardous e-waste discarded globally each year. There is not a good, easy, reputable way to recycle/dispose of e-cigarette components, including Juul pods. The only company we are familiar with that recycles e-cigs is a company called TerraCycle.