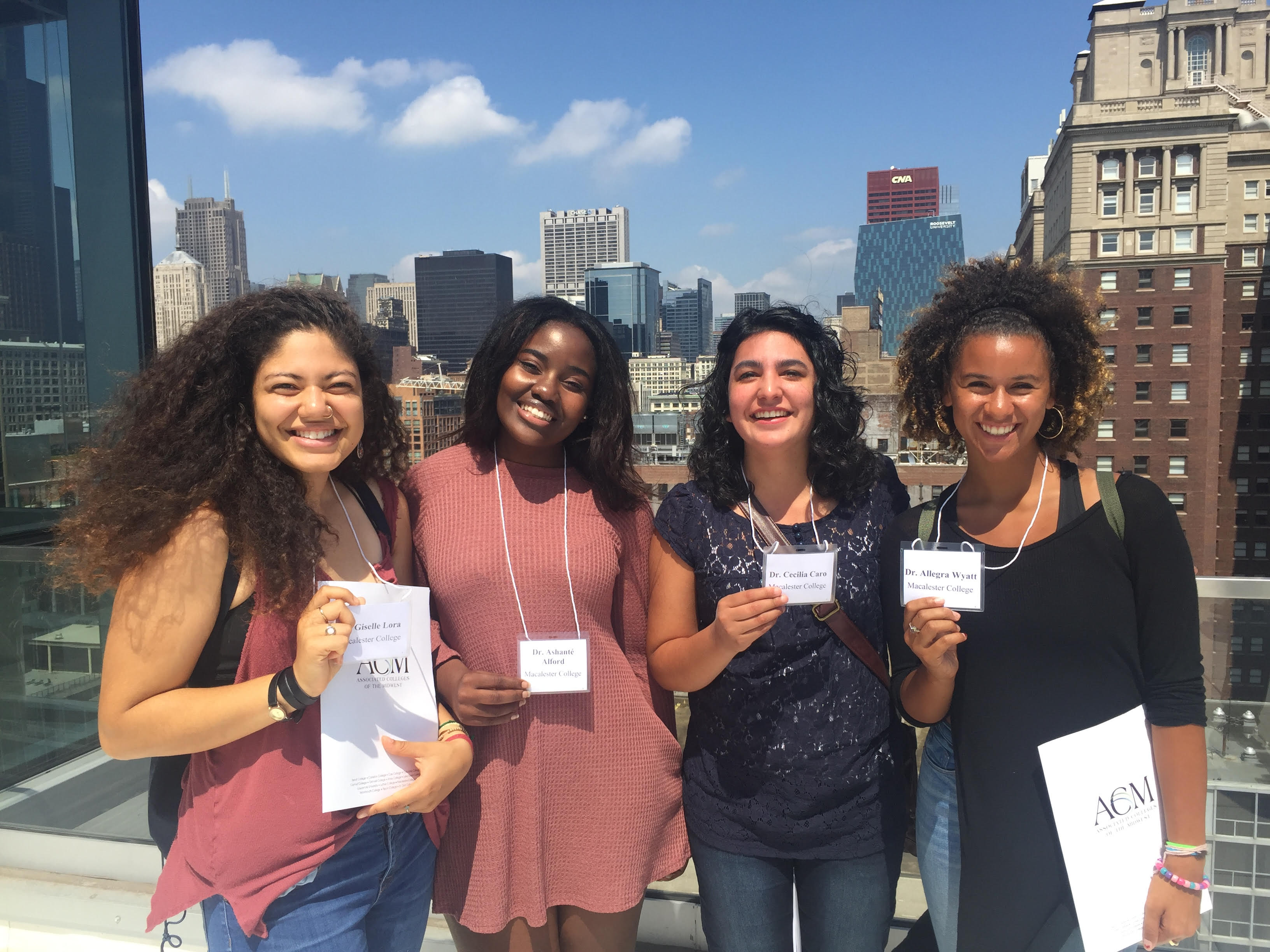 ***Currently, the GSEF program has been put on hold and the 2022 fellows are the last cohort. Please check back in the future for to see if the program is reactivated. 
The Graduate School Exploration Fellowship (GSEF) Program, funded by a generous grant from The Andrew W. Mellon Foundation, is intended to increase the number of underrepresented students who pursue graduate study, research, and/or teaching careers in higher and post-secondary education.
Each year, Macalester selects up to two talented sophomores, through 2020, to participate in the program.
Program Benefits
On-campus mentoring opportunities from Macalester College faculty and staff
Participation in two Annual Summits in Chicago in each summer of the program
A paid summer research opportunity following their junior year at a Big Academic Alliance Institution or the University of Chicago
Graduate school visit assistance funds during senior year (up to $1,000 per Fellow) and assistance for scholarly-related activities (up to $250 per Fellow, per year)
Applying to the Program
The application is a .pdf form that you can complete digitally or handwritten. Included with the application, in separate documents, should be a statement of research interests (500-1000 words), a personal statement (500-1200 words), and an unofficial transcript, You will also need to submit two letters of recommendation, which the writers can e-mail directly to Matthew Katsaros. When you have completed your GSEF application, please e-mail all pieces to Matthew Katsaros in the Annan IGC Dean's Office ([email protected]).
You can read more about the essays in the GSEF Application Guide 2020.
Selection Criteria
All qualified sophomores from groups underrepresented in the professoriate are encouraged to apply, including:
African Americans; Hispanics; Native Americans; Alaska Natives; Native Hawaiians; other Pacific Islanders
First-generation college students
Individuals who have followed non-traditional pathways to college due to exceptional talent and motivation in the face of adversity, such as societal, economic or academic disadvantages
Individuals with a demonstrated commitment to applying and including diverse backgrounds and perspectives to learning, scholarship, service and leadership in the academy
Additionally, students must meet the following criteria for eligibility:
Be a U.S. citizen, a permanent resident of the U.S., or DACA student
A cumulative GPA of 3.0 or higher at the time of application
Have a strong interest in pursuing graduate work in the humanities, humanistic social sciences, and/or the arts
Eligible Fields of Study
Anthropology and Archaeology
Area/Cultural/Ethnic/Gender Studies
Arts
Classics
Communications and Journalism
Economics
Education
English
Foreign Languages and Literatures
History
Library and Archival Studies
Linguistics
Philosophy
Political Science
Psychology
Religion and Theology
Sociology
Learn More: Graduate School Exploration Fellowship (GSEF) Web Page
Current Fellows
Class of 2022
Serena Touqan, religious studies, critical theory concentration
Kiều Truong, american studies
GSEF Alumni
Class of 2021
Nancy Gomez, psychology and educational studies
Swopnil Shrestha, educational studies and political science
Class of 2020
Cristina Martin, psychology and educational studies
Class of 2019
Min Hee Cho, political science and economics
Umar Hassan, political science
Cameron Hill, sociology and hispanic studies
Micheala Sharp, computer science and classics and media & cultural studies
Class of 2018
Ashanté Alford, psychology/neuroscience
Cecilia Caro, anthropology and educational studies
Giselle Lora, anthropology and Latin American studies
Allegra Wyatt, psychology and anthropology
Questions?
Any questions should be directed to:
Faculty Coordinator
Karin Vélez
Associate Professor, History
[email protected]
(651) 696-6254
Administrative Coordinator
Matthew Katsaros
Staff Assistant, Kofi Annan Institute for Global Citizenship
[email protected]
(651) 696-6382