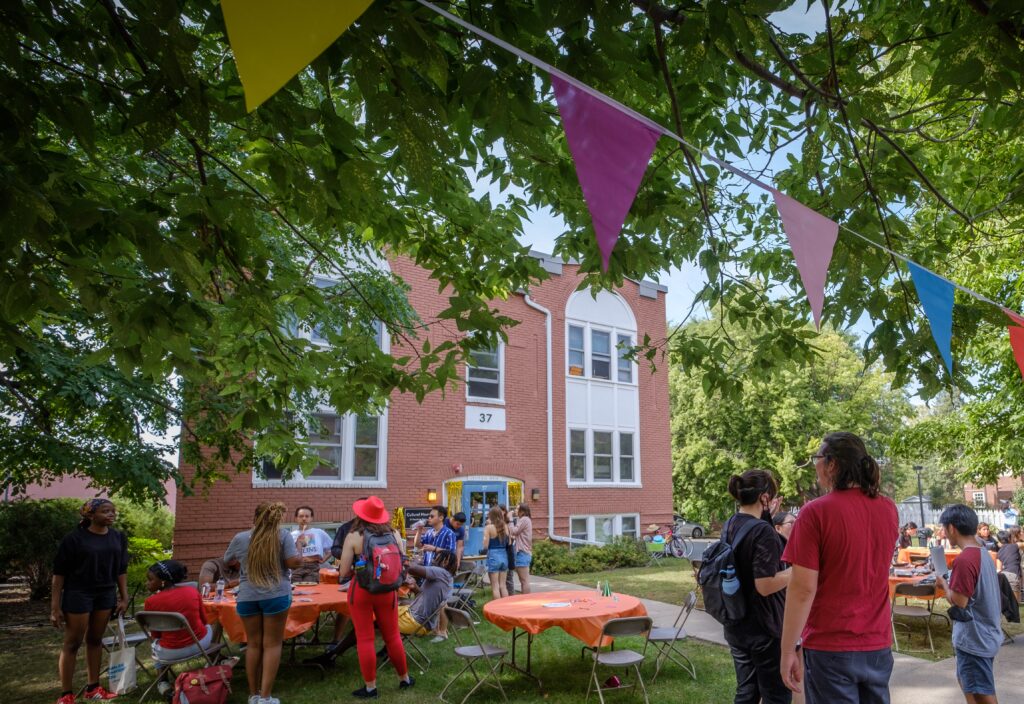 The Cultural House
Located at 37 Macalester Street, the Cultural House (C House) is a living-learning community for students interested in liberatory education, community engagement, and anti-racism movement building. The history of the Cultural House goes back 50 years, with the opening of the Black House (1969), the American Indian Center (1970), and the Hispanic House (1973), stemming from the Expanded Educational Opportunities (EEO) program.

The 2023-24 residents of the Cultural House will be enrolled in the EDU 194 First Year Course: We Demand! Student Power, World Building, and Democratizing Higher Education. Looking at critical ethnic studies, local community activism, the global movement to decolonize higher education, and the history of Macalester (including the history of the Cultural House), this course will examine the ways in which world-building, community collaboration, and student activism have existed and must exist at Mac. Housed in Mac's Cultural House (37 Mac), this course will focus on using said themes for students to create and develop their own philosophy of education and creed regarding their hopes and dreams for their time at Macalester.
The Cultural House Signature Programs
Cultural House Block Party
The C-House Block Party serves as a Fall kick-off to the programmatic year for the Cultural House. It is an annual event that formally welcomes the Macalester community. Food, fun, and water games celebrate the new academic year.
In the Kitchen With…
"In the Kitchen With…" is a program that brings students together over food and conversation to build community, broaden perspectives, and foster meaningful relationships. This program is hosted by a cultural student organization, identity collective, or other interested students who would like to share a cultural touchpoint through food. Students can express interest in hosting an "In the Kitchen With…" or learn more about what that entails here.
Poetry Slam
This annual tradition is a spoken word competition where students perform and the audience is the judge! The Poetry Slam is a time for the Macalester community to celebrate and reflect on the significance of oral traditions in communities of color and as means for political action in all communities.
Reservations
Submit this form to request a reservation of the Cultural House. Please note that requests must be received two weeks in advance, and that the Cultural House is only available for reservations Mon-Fri from 11am-9pm, and Sat-Sun from 10:30am-10pm. Reservations will not be accepted during times that the Cultural House is hosting LSC events (above). Please note that you must receive written confirmation that your reservation request has been approved before moving forward with your event.
Contact
For more information and questions about the Cultural House, contact Hana Dinku, [email protected].
*This webpage will be updated as necessary.