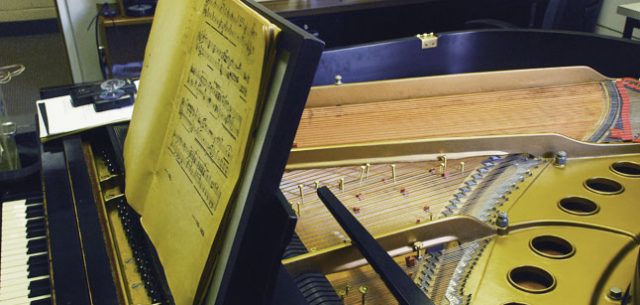 The Macalester Theatre & Dance and Music Departments collaborated on a significant choreographed performance of John Cage's landmark 1948 piece, "Sonatas and Interludes for Prepared Piano."
Macalester music professor and Music Department chair Mark Mazullo, an accomplished pianist, played Cage's complete 70-minute piece for prepared piano. A prepared piano is one in which the pitches, timbres, and dynamic responses of individual notes are altered by placing bolts, screws, mutes, rubber erasers, and other objects at particular points on the strings.
Sections of the piece have been choreographed and were performed by Macalester dance program director Becky Heist and 10 dancers, including veteran performers Krista Langberg, Christopher Watson, Wynn Fricke, and Eric Boone. Langberg and Fricke are also visiting instructors of dance at the college.
Excerpts from Cage's writings in Silence: Lectures and Writing by John Cage will be read aloud and will accompany the music and dance. Macalester technical director Tom Barrett designed the lighting.
This performance is part of Macalester's New Music Series, generously funded by the Rivendell Foundation, and is also a part of the Theater/Dance season.