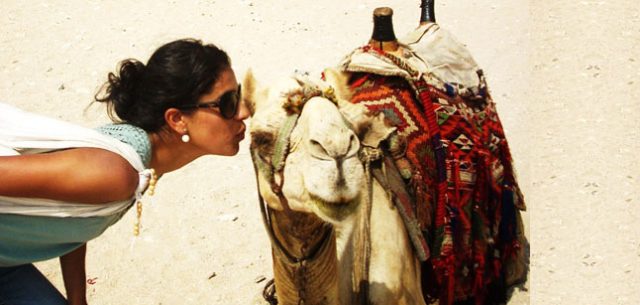 Tackling public health challenges in Minneapolis and the Middle East
Evelyn Balsells has been busy. Last fall, she was in Egypt where she studied community health. And last summer, the Macalester junior, originally from Guatemala, worked at Open Arms of Minnesota as part of her Chuck Green Civic Engagement Fellowship. A common thread in the Middle East and Minneapolis?  Nutrition and community health issues. She explains: 
Last semester, I attended the American University in Cairo. I wanted to explore the Middle East, a region of the world that was completely new to me. I am especially interested in the development issues and unreported community health problems in Arab countries. Chaotic and overcrowded, Cairo offers a completely different experience each day–from the danger of street-crossing, to volunteering with refugees from India, Sudan, or Bangladesh, to visiting some of Cairo's most dazzling quarters, like the City of the Dead. All these experiences have given me great insights about a reality I was not familiar with before. At the same time, I was able to diversify my interests: Egypt was the perfect place to practice photography and scuba diving! 
Earlier in the year, I completed a fellowship with Open Arms, a Minneapolis-based nonprofit organization that provides nutritious meals for people coping with potentially life-threatening diseases. My research in the neighborhood surrounding their kitchen indicated a need for healthy and culturally sensitive meals for low-income children. In this multicultural community, the federally funded Summer Food Service Program was not being implemented in the most effective manner. Using the lessons learned through the fellowship, I proposed a creative, innovative, and cost-effective project to the organization's board.
"It opened my eyes to the many needs of our community and to the opportunities of change, especially to start fighting childhood obesity and hunger."
The project, "Summer Children's Meal Program at Open Arms," aims to fight hunger and childhood obesity using both federal funding and Open Arms' expertise in the field of nutrition. The objective is to meet the needs of the Phillips community and empower its members, especially children, to think about healthier and more environmentally responsible food choices. Open Arms is in the process of reviewing the proposal and the feasibility of implementing it in the near future. 
My time as a Chuck Green Fellow not only enhanced my academic knowledge by providing an experience in the field of public health nutrition, it also opened my eyes to the many needs of our community and to the opportunities for change, especially in fighting childhood obesity and hunger.
I had never been surrounded by such a passionate, fun, and dedicated group of people – my fellowship colleagues, seminar professor, and Open Arms' staff members and volunteers. 
Once I graduate from Macalester, I hope to combine a career in medicine and community health, especially tackling the issues of hunger and nutrition in my home country, Guatemala.