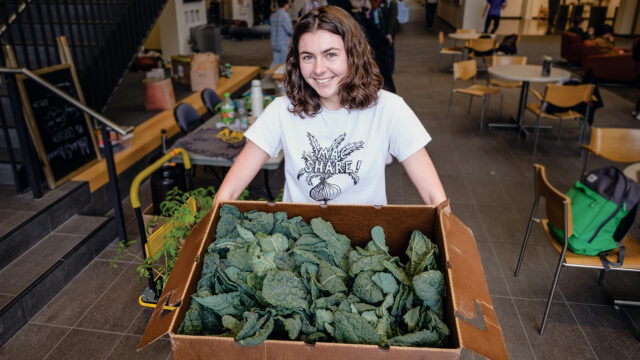 By Talia Bank '23 / Photo by Kurt Stepnitz
Most Friday afternoons during the academic year, MacShare—a nonprofit student organization—sets up its weekly pop-up sale at the Janet Wallace Fine Arts Center. From peppers and kale to granola and popcorn, they offer fresh produce and bulk goods sourced from local farmers. MacShare members are an ambitious bunch, working to provide affordable groceries for students and the larger Mac community while also addressing food insecurity on campus and pursuing food justice in the Twin Cities. Founded in 2018, the org's popularity has exploded in the past couple of years, and it's just getting started.
While most students know MacShare through their sales, the org also is involved with food justice fundraising and food recovery efforts. By fostering relationships with local organizations like Co-op Partners Warehouse, The Good Acre, Loaves & Fishes, and Feeding Frogtown, MacShare takes its mission beyond campus and engages with the broader Twin Cities community. With increased membership and involvement this year, MacShare plans to expand its reach even further.
"We started a round-up campaign (rounding up prices to fund other initiatives) similar to that of our co-op counterparts as an opportunity for students to learn what other food justice nonprofits do," says Jane Dawson '25 (Pownal, Maine), a MacShare co-leader. "We also do food recovery work in Café Mac, we have free vouchers in the food pantry, and this summer students who are living off campus will be able to purchase a box of food from us weekly."
MacShare is able to do this work in part through support from Mac's Sustainability Office. Any money MacShare makes through their weekly food sales flows back into their operations, allowing for offerings like the voucher program and donations to food justice initiatives.
"They put in so much work to be able to offer MacShare. It's a lot of relationship building and coordinating with different cooperatives around the Twin Cities in order to buy food at [affordable] cost and recover food from Café Mac that would otherwise not have been used," says sustainability director Megan Butler. "It's such a great project and their work is really important for the campus."
As they expand, MacShare hopes to demonstrate the many possibilities that their closed-economy (i.e., self-sufficient) structure provides, and educate the community on ways to increase access to local, affordable, and culturally appropriate food.
"Our goal today remains providing students with an equitable, affordable, local way to get produce. COVID-19 really cut MacShare back, but I think this year really represents the next generation and our ability to build on the foundational concept of a closed feedback loop," says Dawson. "We can take food justice and bring it to so many different places. MacShare is something students can count on—it's a moment of community."