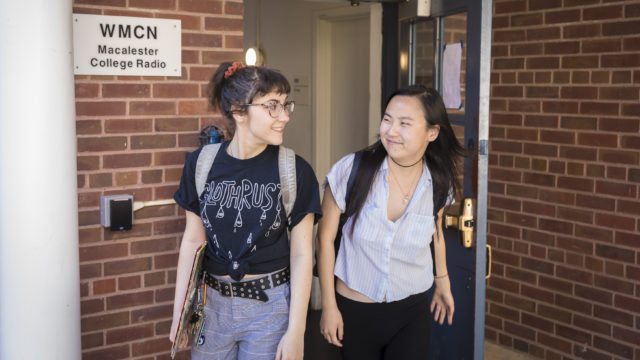 LILY HANNAHER '19
Fargo, North Dakota // Media and Cultural Studies
After Mac: Media producer and Minnesota filmmaker
I didn't know about the radio station, WMCN, when I first came to Mac. Joining the staff sophomore year was really great, because I discovered it's this community of creative people who all care about creating a good culture at the radio station, and making sure that lives on.
The last two years, I've been involved with something new, "Live from Garth's Living Room." It's a series of live sessions we started doing in the WMCN studio every Saturday, with bands from around the Twin Cities. We do a lot of label outreach, which has helped us develop relationships with local record labels and get different acts to play for us. When they come in, I help mic them up, and then film their performances, and sometimes I'll interview bands too. It's something we're really proud of—doing live sessions on-air isn't easy. And we've had some great bands in, too. Like we got Remo Drive last year, before they started getting bigger. That was pretty cool.
PAT VAIDOS '22
Chicago, Illinois // Linguistics
I've been doing my show since the beginning of my first year. I already was interested in having a radio show before I came into college, so I immediately applied for a DJ slot when I got here. My show's called "femmk!," and it's on air from 6 to 8 p.m. on Tuesdays. It's geared toward queer and femme artists in alternative music; the genres I play can range from indie rock to electronic music. Typically before my show, I'll set up a playlist for that night. But if I'm on the air and decide another song better fits with the flow I have going, I'll queue that up as well—I just have to make sure they're all FCC friendly first.
One of my favorite parts about WMCN is the amount of freedom you get to express whatever theme or message you want on the radio. It's a very open platform to share your interest in music with other people on and around campus. And it's really because the student staff members make it the kind of space where you're allowed to have that kind of platform.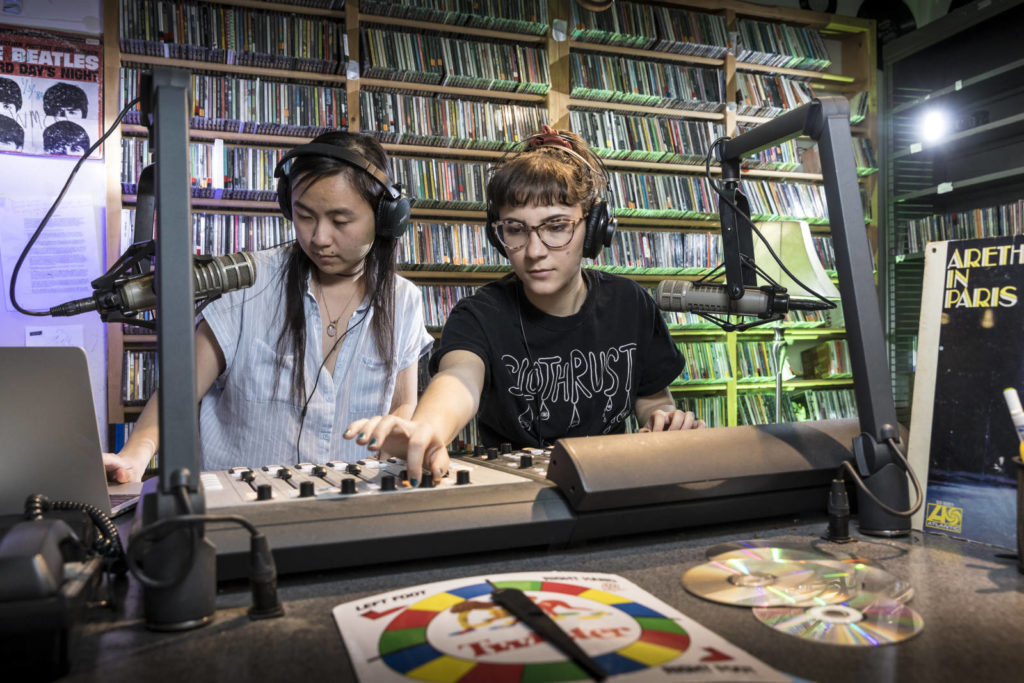 Notable Mac Musicians
BAD BAD HATS
WILL SHEFF '98 (OKKERVIL RIVER)
BOB MOULD '82 (HUSKER DU)
GAELYNN LEA '06 (2016 NPR TINY DESK CONTEST WINNER)
JOEY WARONKER '92 (ATOMS FOR PEACE, BECK, R.E.M.)
GARY HINES '74 (SOUNDS OF BLACKNESS)
STEVE TIBBETTS '76
AMANDA WARNER '01 (MNDR)
Musicians with Minnesota Roots 
PRINCE
BOB DYLAN
LIZZO
DESSA
DOOMTREE COLLECTIVE
BROTHER ALI
THE REPLACEMENTS
HALEY BONAR
SOUL ASYLUM
HAR MAR SUPERSTAR
POLICA