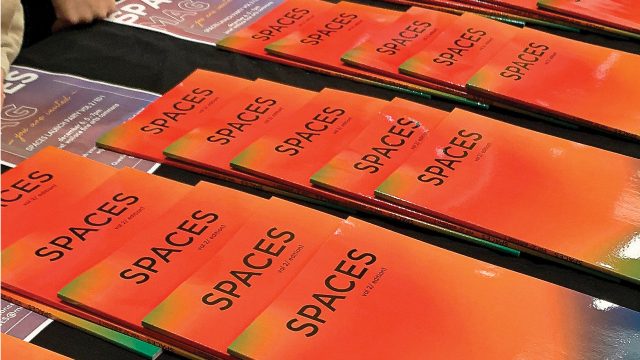 Tori Gapuz and Swopnil Shrestha's Mac friendship began before they were even in college: the now-juniors became fast friends at a Spring Sampler for admitted students. "We've always shared this bond of checking in with each other, especially as first-generation, low-income women of color," says Shrestha (Minneapolis).
They continued those check-ins the following summer, reflecting on how both women finished the year feeling frustrated about how they presented or concealed their identities as they navigated campus and academia. An idea took shape: a creative outlet for Mac's students of color, produced by students of color. "The conversation started out as, 'Wait, should we really do this?' and turned into, 'No, we have to really do this,'" Shrestha says. "By the end of the summer, we had everything in one super-unorganized Google doc."
Research and mood boards evolved into a magazine they named SPACES and a 25-person production team, which created a whirlwind of logistics, finances, and deadlines (and "a big hit of reality," Shrestha says). They asked for help. They released one issue, then a second.
But as that timeline raced along, SPACES was spinning into more than just a publication. It became a new community in its own right, with a vibrant social media presence featuring "day in the life" vlogs, curated playlists, and shout-outs to cultural orgs—and the production team knew its work was resonating. "The love and support from the Macalester community overwhelmed us with joy," says Gapuz (Plainfield, Ill.). "I felt the change when SPACES debuted on campus. It was empowering to see students of color come together to create something meaningful to them."
With the two founders studying abroad last fall, interim directors Amanda Ortiz '21 (Chicago) and Ayize James '22 (Berkeley, Calif.) oversaw the third edition. Plans continue to expand—a documentary team is in the works—but the big goal remains the same, explains James. "We hope people see the magazine and want to start creating, with or without us," he says. "We're trying to put an authentic microphone to the voice of students of color on campus."
Photo by Kalala Kiwanuka-Woernle '22