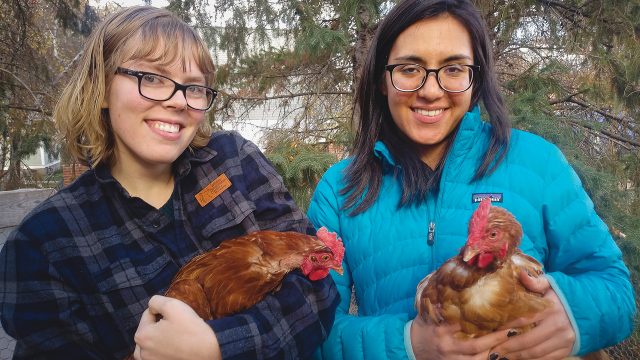 Macalester's EcoHouse is home to four students and four chickens.
"Their names are Kitty, Dodie, Torti, and Pinky Fluffernutter," says EcoHouse resident Olivia Nyman '20 (New Berlin, Wis.). "Well, it depends who you ask," Elika Somani '20 (Singapore) counters. "One of my friends renamed one of the chickens 'Hennessy,' but we don't know which one it is."
The chickens, which eat plant-destroying insects and food scraps while also providing the house with a seemingly endless supply of fresh eggs, are a recent addition to the catalog of projects that EcoHouse students take under their wing (pun intended) for the duration of their residency.
As well as contributing to initiatives managed collectively by the housemates, each resident takes on a semester-long independent study in sustainable living. "EcoHouse was founded with the mission of being an in-house laboratory," Somani says. "A large part of its purpose is to develop, understand, and test out different sustainable practices."
Students apply for a yearlong commitment to the program. During that time, they can use EcoHouse funds to sponsor new projects. Last year, the house got funding to buy a crank-controlled washing machine. Now, for ease of use, this year's residents are modifying the contraption to include a sitting bike—as they pedal, the crank turns, washing their clothes without any electricity and using at least 10 fewer gallons of water per load.
The EcoHouse has long been a space for collaboration among different sustainability organizations on campus, including an ongoing relationship with Macalester's MULCH (Macalester Urban Land and Community Health) garden.
The residents have also worked toward engaging the broader Mac-Groveland community. Purchased in 2007, the house itself has undergone significant sustainable renovations, like the inclusion of a dual-flush toilet system, central cooling, and a solar-powered water heater. St. Paul locals can tour EcoHouse on request to see those changes for themselves, as a blueprint for redesigning their own homes in an environmentally friendly way.
Somani has an independently designed major in global health and international development. While her studies are closely related to sustainability and environmentalism, she says that life at EcoHouse is a good fit for students without that experience. "I'd really encourage students who aren't as environmentally minded to apply," Somani says. "The house has even more payoff for them in terms of learning sustainable practices. That's part of the mission of the house—to engage people whose first instinct isn't toward sustainability."
By Rebecca Edwards '21