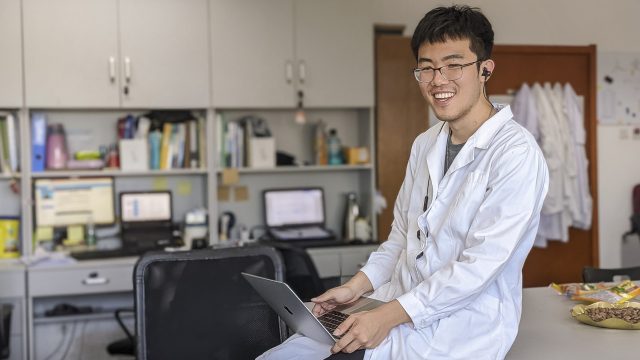 "They learned how to work on remote teams, work from home, and navigate different time zones and Internet interruptions."—Elizabeth Jansen
When many in-person summer opportunities were cancelled due to the pandemic, the college pivoted to develop several new online experiences. Some 30 students applied to be Digital Global Health Scholars, says Elizabeth Jansen, an assistant professor of biology and the program's coordinator. Six students and one alternate were selected for half-time work over eight weeks, receiving a stipend of $2,500. "During June, students focused on classes, lectures and workshops," says Jansen. "In July, each student was tasked with developing curriculum for the global health program."
Working with University of Minnesota physician and Macalester alumna Kristina Krohn '05, the Digital Global Health Scholars helped develop interactive curriculum for Continuing Medical Education training for physicians in the medical school's online global health program.
Aaron Zou '21, a sociology major with a concentration in community and global health and minors in French and statistics, took part in the program from his home in China. "We met on Zoom three times a week for lectures about public health, and talks from public health officials on how they developed their careers and arrived at this point in their lives," he says.
Zou's project looked at a polio eradication effort that took place in northern Nigeria in 2003. "There was a lot of resistance against the vaccine among the people and the local governments in northern Nigeria, and I was trying to figure out why that happened," he said. Zou says that he initially hypothesized that the vaccine hesitancy was due to rumors in the community. But as he continued his work, he found that distrust—in NGOs, in the West post 9/11, and in Nigeria's federal government due to religious issues and regional conflicts—was one of the main reasons behind resistance to the vaccine.
Based on this research, Zou created a "Choose Your Own Adventure" module in which students act as investigators to discover why the Nigerian vaccine effort played out as it did.
Other student projects included looking at barriers to mental health among Chinese populations; vertical transmission of HIV among children; the impact of adverse childhood experiences in West Africa; a study of the bacteria that causes river blindness; and the historical and social contexts behind tuberculosis.
All students also received professional development support from Macalester's Career Exploration program in learning how to talk about the experience with potential employers, and developing their resumes and elevator pitches.
"Students participated from all over the world," says Jansen. "In addition to learning about public health, they learned how to work on remote teams, work from home, and navigate different time zones and Internet interruptions."
Zou, who hopes to pursue a career in public health, is grateful to Dr. Krohn for showing him a path. "I don't have a background in medicine or biology, but during an information session, Kristina told me about people with similar backgrounds," he says. "It's very helpful to know that I can make a career in public health and the specific fields that I can work with."