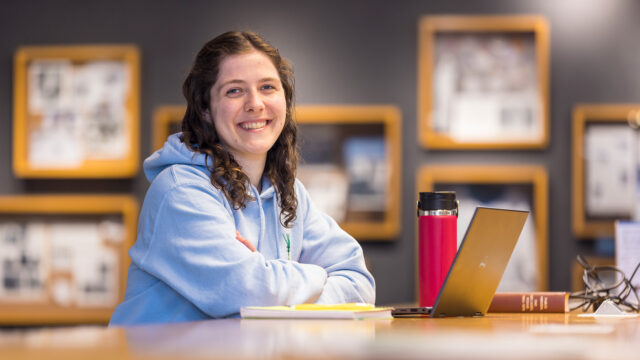 Internships are an integral part of most students' experience at Macalester. There are  over 200 internship sites within eight miles of campus and a center to help students navigate the internship process. What's most important though is that students learn more about their career aspirations and make valuable connections with people in fields they hope to pursue after graduation.
Julia Chamberland '23; Grinnell, Iowa
Environmental Studies and Geography (double major); concentration in Food, Agriculture, and Society
As part of her environmental studies capstone, Julia Chamberland has been working as a story-writing intern for Minnesota Upstream, an initiative that shares stories of environmental stewardship from Minnesotans of all backgrounds and political ideologies. In her role, she reaches out to Upstream partner organizations (such as non-profits, small businesses, and universities) and writes stories about what they are doing to care for natural places in Minnesota.
"As someone who identifies as progressive, working towards bridging differences and connecting to people who are different from me politically and in other ways is very important to me," Chamberland said. 
What is Upstream and what do they do?
Within the organization's "culture change" campaign, we try to amplify and celebrate the ways all Minnesotans from all backgrounds are caring for our natural places. Our main task is to figure out how we can highlight what people from all backgrounds are doing to care for a place, and how that can bring people together in a cohesive culture of environmental care and sustainability. 
What have you learned in doing this work? 
The reason that I even considered reaching out to them is because I'm also a geography major, and I liked the way the organization was very 'place-focused.' At Upstream, we're constantly thinking about how people from many backgrounds may think about their places very differently, but at the same time, discover common ground in how we care for our places. 
I like the mission of Upstream and the idea that they want to bridge differences to be able to connect people. It's a challenge. They try to showcase a broad range of stories. 
They also have other initiatives like a "backyard conversations" project where they bring people from different backgrounds or ideologies together to talk about environmental issues. It's an interesting and evolving organization. 
What does your workday typically look like? 
I work from home typically in the morning, so I might start off by emailing with Upstream's organizational partners to find times when we can connect for interviews. I might spend some time talking with a partner, writing up my notes on the story and then connecting with them again to check the story. Sometimes, I get to interview folks in person or attend events, which is super fun. 
I've also been working on a couple of projects. One is outreach-focused, bringing in higher education institutions in Minnesota to become Upstream partners. 
Another project we're working on is called "Find-Your-Next." We're going to launch a digital web-based tool so that Minnesotans interested in environmental care can network about what they can do for sustainability. 
What is the most challenging part of the job?
Now that I've been brought into the organization, I'm realizing that reaching out to people by email takes a lot of patience and persistence. 
What is something you've learned within this field and about yourself? 
I feel that I've really honed my communication skills through this internship. I've also picked up some new skills along the way like learning how to take professional photos with the help of student staff at the Digital Resource Center (DRC). In terms of myself, I think that remote work has been really hard. I'm a senior and I'm going to go out working next year, and I've realized how important interacting with people is. 
What is something special about this internship that you felt you haven't had in previous ones?
In a past internship I've done, I felt like I didn't have a lot of direction and that they just needed another employee to do the work that other people didn't want to do, which I understand. In this position, however, it feels like I'm being given a lot more autonomy. It surprised me at first, but I've been given more creative license and they trust me to talk with partners as well as be a face of the organization. It's been really encouraging that my supervisor has placed that kind of trust in me.