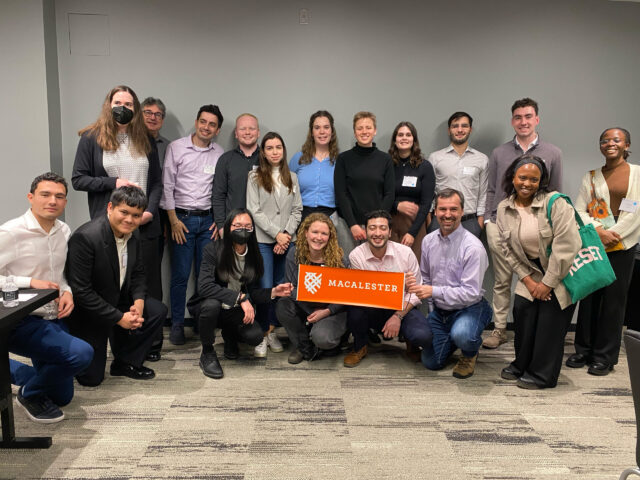 By Talia Bank '23
This spring, Career Exploration continued its MacConnect trip series, bringing 13 students to Washington D.C. to explore careers in social science, including paths in law, policy, and government. Over spring break, the group toured six sites—hosted at each one by Macalester alumni—and met with their hosts to learn more about their career paths and the ins-and-outs of their work. Students also had the opportunity to extend their stay and network with alumni and other professionals.
"A lot of the time, students have ideas about what they want to do, but they might have a limited view of what that looks like," says Director of Student Engagement and Career Advising John Mountain. "The goal was to provide a wide range of sites and let the students find what fits." 
The group visited UNICEF, Dexis Consulting Group, the Brookings Institution, the National Women's Law Center, the World Bank, and the U.S. Department of Homeland Security. Their itinerary included time for one-on-one conversations as well as panels with alumni on professional topics and life in Washington D.C. more broadly.
"I think it is really important for students to see how close-knit the alumni community is and how much they want to help—they want to meet with students, and they enjoy the conversations as much as students do," says Mountain. "Hopefully what comes out of this is realizing that even though you might end up working in a completely unrelated field, you have people that you're connected to who can be really helpful to talk to as well." 
For Chiara Affatigato '23, the trip was just as much about making those kinds of connections with fellow students as it was about professional development.
"I learned about people doing work that I had no idea was being done. It opened my eyes to new possibilities for my future. I also enjoyed face-to-face networking and conversations. Speaking in-person strengthened the connection and made me more confident to reach out to alumni after," said Affatigato. "But the best part was making friends with other students. As a senior, it can be hard to branch out and connect with new people, but this trip forced that to happen and I am very grateful for that."