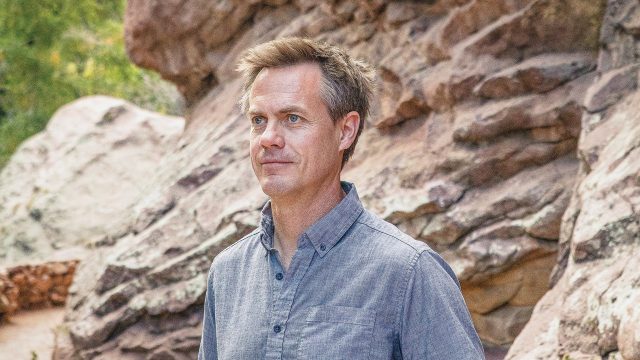 Though Brady Robinson '95 never intended to be a conservationist, he's on an unrelenting mission today to defend America's natural treasures.
As The Conservation Alliance's executive director, Robinson teams with national companies like Merrell, Patagonia, Clif Bar, and REI to protect and restore America's wild places for both recreation and wildlife. The Alliance's efforts help to ensure that animals will enjoy healthy conditions in national parks like Yosemite and that future generations can experience the grandeur of places like the Appalachian Trail and Grand Canyon.
Robinson visited with Macalester Today to discuss his unexpected career and his passionate push to preserve the great outdoors.
Growing up in a rural, forested area outside of St. Peter, Minnesota, Robinson enjoyed childhood trips to the Boundary Waters Canoe Area Wilderness and climbed trees, honoring his mother's orders that he only ascend high enough to risk breaking his legs. "I liked adventure and felt compelled to do hard things in the outdoors, even if they sometimes weren't rational."
As a Macalester philosophy major, Robinson ventured to Lander, Wyoming, for a semester-long National Outdoor Leadership School course. That three-month endeavor, dominated by instructors with unkempt hair and tan faces savoring lives of outdoor adventure, altered Robinson's life. "It was the first time I had ever met people I wanted to be like when I grew up. Finally, I saw a path in which my career and my passion for outdoor places would sync up."
Following graduation (and some groveling), Robinson was hired as an assistant instructor at Outward Bound, a non-profit provider of experiential-based outdoor education. Over the next dozen years, Robinson connected with people from all walks of life, traveled the world observing different cultures and geographies, and developed an even deeper appreciation for nature's inherent lessons. "Outdoor education provided an opportunity to teach ethical principles without ever preaching, and I consistently found myself in environments in which virtuous actions—selflessness, compassion, and courage—naturally arose."
Before joining the Oregon-based Conservation Alliance last November, Robinson spent 11 years leading the Access Fund, the national organization that keeps climbing areas open and conserved, before a stint at Tompkins Conservation, an organization that protects wild habitats and promotes biodiversity. Those stops taught Robinson how to mobilize support and further accelerated his commitment to explore the proper relationship between humans and natural spaces. "It awoke in me this absolute need to promote conservation."
An organization of like-minded businesses whose collective contributions help protect wild places for habitat and outdoor recreation, The Conservation Alliance has safeguarded more than 52 million acres of wildlands since its inception in 1989, while also protecting 3,112 miles of rivers, designating five marine reserves, and purchasing 14 climbing areas. Robinson considers it incredibly impactful work. "Outdoor experiences build better people who are healthier, who make better decisions, and who can take other people, other creatures, and other perspectives into account."
While Robinson believes people's individual experiences with the land will fuel conservation—"If it hadn't been for those early experiences climbing trees in Minnesota, I might never have joined the many voices advocating for the protection of our nation's cliffs, trails, rivers, and outdoor places"—he believes businesses play a vital role as well. "Finance plays into environmental issues, and the business world must see their responsibility to stand up and help protect wild places."
The point of The Conservation Alliance? To leverage business voices for conservation efforts and to do so through the lens of outdoor recreation, a concept that cuts across partisan lines. The organization enables businesses to support conservation through strategic grantmaking and strong advocacy. "At our best, we make it relatively easy for businesses to do the right thing."
Decisions about equity and inclusion are woven into the work. "As a grantmaker, we can either perpetuate biases and power structures within the environmental conservation world, or we can empower underrepresented voices. In the case of public lands, elevating and supporting Indigenous voices is especially critical." The Conservation Alliance recently awarded a grant to the Gwich'in Steering Committee for its work to defend the Arctic National Wildlife Refuge (ANWR) from oil extraction: "To the Gwich'in, the ANWR is the sacred place where life begins."
While outdoor brands like Patagonia and Merrell have a vested business interest in protecting wild places, Robinson looks to expand The Conservation Alliance's membership into other industries and reach a broader audience. To accomplish that, he leans on his Macalester philosophy training, namely crafting a persuasive argument. Recently, Robinson wrote a note to The Conservation Alliance's bank about taking a stand against extraction in the ANWR. "In putting together an argument, you must be respectful, yet forceful. That's something I learned at Mac."
The ultimate question that energizes Robinson: do humans have it within themselves to course-correct? "That's a deeply meaningful and intellectually interesting question to me, and one that's also central to my work at The Conservation Alliance. I believe we can course-correct, though it requires being intentional about how we're treating the planet."
By Daniel P. Smith / Photo by Julia Vandenoever
Daniel P. Smith is a Chicago-based journalist.