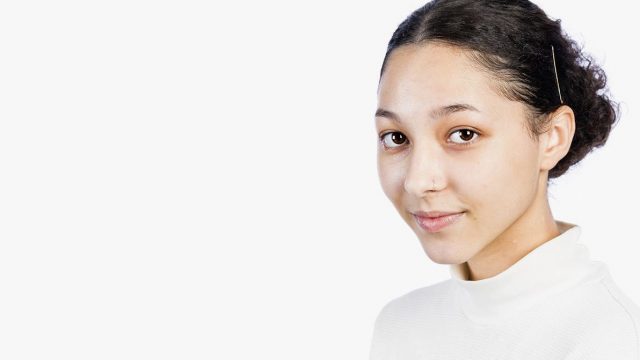 St. Paul, Minn.— Maraka Bradford '24 (Portland, Oregon) was one of only 300 outstanding high school seniors to be awarded the Gates Scholarship—guaranteeing her a full ride to the college or university of her choosing, provided she was admitted. She chose Macalester.  
The scholarship, founded in 2017 by the Bill and Melinda Gates Foundation, is a rare opportunity for low-income students historically excluded from higher education. "By eliminating the financial barriers to college, a last-dollar scholarship can enable high-potential, low-income minority students to excel in their course work, graduate college, and continue to be leaders throughout their lives," reads the organization's mission statement. 
"I'm mostly just excited—I've been looking forward to college for as long as I can remember."
Bradford was initially intimidated by the selectivity of the award, and hadn't intended to apply. 
"I had a college mentor from my school program, who initially told me not to do the Gates—she just wasn't sure if I would get it," Bradford says. "But the summer before my junior year, I sent in the first application, to see if I would qualify."
In November of her senior year, Bradford learned that she would be a QuestBridge scholar. If she matched with a QuestBridge partner school, she would be admitted and given a substantial four-year scholarship. She submitted a ranked list of her top school choices, including Macalester. 
"The small class sizes and proximity to a big city were important to me," Bradford says. "And I had heard really great things about the community. I knew a lot of alumni who encouraged me to apply.
"The day after I learned I had matched with Macalester, I got an email that I was a finalist for the Gates Scholarship. My teachers and family members encouraged me to keep going with it, because I had made it to such a competitive phase."
As a Gates Scholarship winner, Bradford says her excitement about the next phase of her studies has only increased. 
"The people behind the scholarships believed in me," she says. "I think that is a huge motivator to continue doing well and to really keep pushing myself."
With lots of academic interests, Bradford isn't sure yet what major she wants to pursue. Among her passions are sociology, anthropology, studio art, and STEM subjects. She was also accepted to Macalester's Lives of Commitment program for first-year students who want to make a difference in their community, and hopes to join clubs and orgs as much as social distancing will allow. 
"With coronavirus, there are a lot of changes that I hadn't anticipated when I envisioned college in my head," she says. "But I'm still just as excited. It seems like the staff here are trying to make it as good a year as possible, despite everything that's going on.
"I'm mostly just excited—I've been looking forward to college for as long as I can remember."