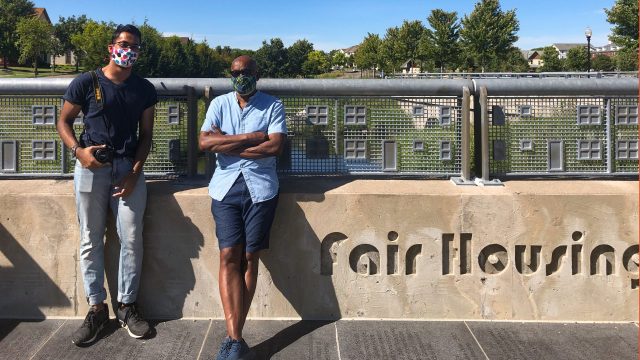 "I discovered that land remediation is an effective way to restore both natural and urban spaces."
Alex Thomas
St. Paul, Minn. – Alex Thomas '22, an environmental studies and studio art major from Kerala, India, has been awarded the Mac Hyde Brownfield Scholarship from the Minnesota Brownfields organization.
Minnesota Brownfields is a Minneapolis nonprofit dedicated to promoting the redevelopment of "brownfields"—properties where redevelopment is complicated by the presence of environmental contamination. Efforts to clean up and revitalize these sites can have positive effects on local communities, economies and environments.
Each year, the organization awards $2,000 to innovative undergraduate students with a strong interest in brownfield redevelopment to honor the legacy of Mac Hyde, a pioneering environmental lawyer and real estate developer who developed almost two million square feet of abandoned, polluted real estate in the Upper Midwest over the course of his career.
In 2020, Minnesota Brownfields received seven applications for the scholarship. Thomas, who has a passion for sustainable architecture, was a stand-out candidate. 
"His art background was unusual for an applicant, but what made Alex such a strong candidate was his desire to use architecture as a tool for addressing environmental and social challenges simultaneously," says Minnesota Brownfields outreach coordinator Gabe Epstein. "He demonstrated incredible creativity and a strong commitment to environmental justice." 
"I've been interested in the intersection of natural and built environments for a long time," says Thomas. "In exploring where those intersections are, I discovered that land remediation is an effective way to restore both natural and urban spaces. In my environmental studies classes, we learn that it's not enough to not commit harm to the environment, rather we should shape our actions and communities to actively give back to the earth. Brownfield redevelopment aligns with those values of environmental justice, which is what drew me in."
"Brownfield redevelopment and environmental justice are also deeply tied to values of racial and social equity," he says. "Those most directly and disproportionately affected by brownfields and other environmental contamination tend to be communities of color and people with fewer means to mobilize themselves—so brownfield redevelopment works as a way to both create healthier, livable spaces while also contributing to the much-needed work of healing and restoring communities disadvantaged by discriminatory laws and practices."
In his application, Thomas expressed his short and long-term career goals and their relation to brownfield redevelopment. "After Macalester, I hope to learn more about sustainable architecture and urban planning, and how they can drive positive social change—no matter how big or small—in the communities I am a part of," he says. "That's the vision I am working toward."
Thomas credits much of his experience in these fields to flexibility on the parts of Macalester professors and staff he has learned from and worked with. "All my mentors, both faculty and staff, have been encouraging in that they helped me find opportunities to explore topics I'm passionate about, like sustainable architecture, from within courses or structures that seemingly don't have connections to those topics," he says. "Their willingness to help me find ways to make connections with ideas in and outside a class, as well as their willingness to learn along with me on that journey, has made me more confident in myself when learning and trying new things."
In addition to the financial award, Thomas will receive recognition at the 2020 ReScape Awards, an honorary membership with Minnesota Brownfields for the duration of his time as a student, and free registration to one Minnesota Brownfields educational forum.