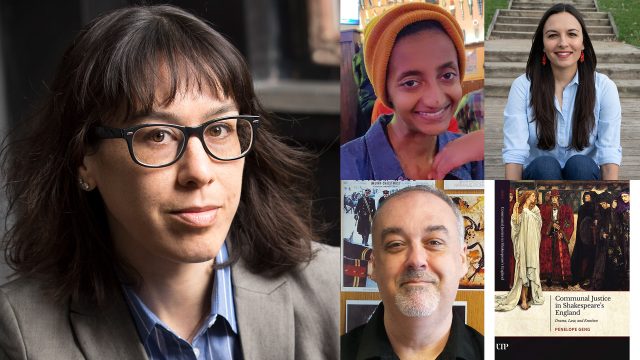 Maccolades is a monthly round-up of the most recent accolades and accomplishments earned by members of the Macalester community. Below are highlights from April 2021. 
From Mac to Africa by way of France: Professor awarded Fulbright to study colonial legacies
Dr. Lisa Mueller, professor of political science and director of African studies, has been awarded a Fulbright U.S. Scholar Award to conduct research at "Les Afriques dans le Monde," a research laboratory at the University of Bordeaux in France. "I am eager to learn what concrete steps academics in France are taking to redress legacies of colonialism and racism in the classroom," says Prof. Mueller. Her book project explores the effects of French and American aid on political parties in Africa and its implications for democracy and political behavior. Noting Fulbright's emphasis on intercultural exchange, Dr. Mueller says, "I am thrilled to have received a grant so fitting Macalester's traditions of internationalism and multiculturalism." 
When DOVE's fly
Graduating senior Zahara Spilka '21 (Mequon, Wisconsin) was awarded the Diversity of Views & Experiences (DOVE) fellowship from the University of Minnesota, where she will pursue a PhD this fall, studying the intersectionality of computer science, studio art, and psychology. The fellowship includes funding for tuition and summer research, as well as a $25,000 living stipend. Spilka will conduct research with her advisor, whose work focuses on virtual reality, immersive coding, and computer graphics. According to the University of Minnesota website, DOVE fellowships assist graduate programs in enhancing diversity through recruitment and support of students whose background, experiences, and achievements contribute to the University's goal of promoting excellence through diversity. 
Dancing with the truth: Theater professor sets NEA grant in motion
Praised by a recent press release as "imaginative, thoughtful, and provocative," the performance "Here Lies the Truth" by Li-Chiao Ping Dance was awarded a $10,000 National Endowment for the Arts grant. Choreographer Li Chiao-Ping, visual artist Douglas Rosenberg–both professors at UW-Madison–and Prof. Cláudia Tatinge Nascimento, theater artist and chair of the Theater and Dance Department at Macalester, will collaborate in this project's next iteration starting this summer. A timely and topical multimedia dance work, "Here Lies the Truth" explores how truth and lies infiltrate our personal and political environments. 
What could go wrong? New book details exploitation of Native American history for tourism
Dr. Katrina Phillips, professor of American Indian history and a citizen of the Red Cliff Band of Lake Superior Ojibwe, has published a new book entitled Staging Indigeneity: Salvage Tourism and the Performance of Native American History. Salvage tourism refers to "the continued use of Indians and Indianness as a means of escape, entertainment, and economic development," says Dr. Phillips. In the book, she explores how communities capitalized on the histories of Native American people to create tourist attractions in the 19th and 20th centuries. Locals staged performances that claimed to honor an Indigenous past while depicting that past on white settlers' terms. A Wallace grant enabled Prof. Phillips to hire Kasia Majewski '19 as a research assistant. "She was integral to the final outcome," says Dr. Phillips. "Her research opened up a whole new scope." While aimed at people who enjoy history and the performing arts, the book is accessible to a wide audience. 
How do you confidently say "new doctor" in French?
Longtime French language instructor Claude Cassagne has earned a doctoral degree in Educational Leadership from Concordia University in St. Paul. "It is an accomplishment I never thought I would do," he says. His dissertation, "Alleviating Oral Communication Anxieties in College French Classes: The Impact of Professor-Student Connections," is a direct example of his dedication to helping Mac students improve their language skills. "This affects how empathetic I and other professors are toward students who experience anxiety speaking a foreign language," Dr. Cassagne says. "I use my research to help my students."
To punish or not to punish: New book examines justice in Shakespeare's England
English professor Penelope Geng has published a new book called Communal Justice in Shakespeare's England: Drama, Law, and Emotion. Early modern English drama celebrated the ability of individuals to work alongside members of their community to restore justice. Praised as "rich and rewarding," the book explores how playwrights such as Shakepeare used the participatory nature of theater to deepen public understanding of and respect for communal justice. "It's important that we know more about the history and literature that shaped modern beliefs and practices of law, punishment, witnessing, and judgment," says Dr. Geng. "I also wanted to challenge the idea that 'law' was made for and by the professional class." Macalester students who took Shakespeare classes with Prof. Geng "deserve special recognition for illuminating details in the plays that I hadn't fully appreciated until I read these plays alongside them in class," she says.
How to be considered for future Maccolades
If you've recently earned an award, fellowship, or honor and would like it to be considered for inclusion in next month's Maccolades, please let Communications & Marketing know by filling out this Maccolades form. For recent book publications, please use this book publication form.