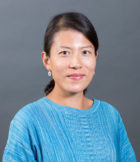 Assistant Professor, English
Early modern English literature and culture; Shakespeare; sixteenth- and seventeenth-century drama, poetry, and prose; law and literature; formalism; rhetoric; critical theory; affect studies; gender studies.
Old Main, 202
651-696-6641
pgeng@macalester.edu
Penelope Geng teaches Shakespeare and early modern literature. Her research focuses on the intersection of literature, law, and religion. Currently, she is working on her first book Communal Justice in Shakespeare's England, an investigation of lay magistracy in early modern English literature. Key texts include John Foxe's The Book of Martyrs, domestic tragedies (such as Two Lamentable Tragedies and A Warning for Fair Women), and Shakespeare's Henry IV, Part 2, King Lear, and Macbeth.
Areas of Study
Early Modern Literature
Shakespeare
British Literature c.1500-1700
Law and Literature
Reformation Studies
History of Rhetoric
Formalism
Critical Theory
Gender Studies
2018-2019 Courses
Professor Geng is on Sabbatical for the 2018-2019 Academic Year
Publications
Articles
"On Judges and the Art of Judicature: Shakespeare's Henry IV, Part 2." Studies in Philology 114.1 (2017): 97-123.
"Before the Right to Remain Silent: The Examinations of Anne Askew and Elizabeth Young." TheSixteenth Century Journal 43.3 (2012): 667-679.
"'He Only Talks': Arruntius and the Formation of Interpretive Communities in Ben Jonson'sSejanus." The Ben Jonson Journal 18.1 (2011): 126-140. 
Encyclopedia Articles
"John Marston" (3000 words), "Sir John Davies" (1000 words), "John Dowland" (1000 words). TheEncyclopedia of English Renaissance Literature. 3 Vols. Gen. ed. Garrett Sullivan and Alan Stewart; assoc. ed. Rebecca Lemon, Nicholas McDowell, and Jennifer Richards. Oxford: Wiley-Blackwell, 2012.
Reviews
Book Rev. of The Work of Form: Poetics and Materiality in Early Modern Culture. Ed. Ben Burton andElizabeth Scott-Baumann. Oxford: Oxford University Press, 2014. Renaissance Quarterly 71.1 (2017): 401-2.
Book Rev. of Marissa Greenberg. Metropolitan Tragedy: Genre, Justice, and the City in Early Modern England. Toronto: University of Toronto Press, 2015. Renaissance Quarterly 69.3 (2016): 1188–1190.
Theater Rev. of The Changeling. Thomas Middleton and William Rowley. Director Joe Hill-Gibbins. Young Vic, London. 25 Feb. 2012. Cahiers Élisabéthains 81 (2012): 57-8.
Fellowships
Francis Bacon Foundation Research Fellowship, Huntington Library, 2018/9
Francis Bacon Foundation Research Fellowship, Huntington Library, 2014.
Andrew W. Mellon Academy for Advanced Study in the Renaissance Fellowship, 2014.
Dissertation Completion Fellowship, Graduate School, USC, 2013-14.
Dissertation Fellowship, Early Modern Studies Institute, USC-Huntington Library, 2012-13.
Links
Website https://penelopegeng.wordpress.com/
Education
BA (Honors) in English: University of Toronto
MA in Humanities: University of Chicago
MA in English: University of Southern California
PhD in English: University of Southern California